I was 12 when my most favorite aunt moved to Dubai. Every year she would come visit us and with every passing year the goodies she bought would turn fancier, and her stories about the city would keep changing. Basically, every time she would come to India, there would be a new element added to her Dubai stories, so much so that I added the city to my "places to visit before I die" list.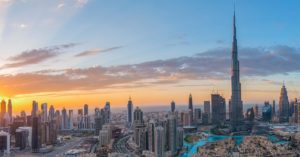 Cut to 2018, Dubai ticked off and how. It was a 3-day trip – so much to see and such less a time. But hubby dear being the genius that he's, made sure we explored not just the conventional malls and skyscrapers but also the offbeat Dubai.
First things first, the city has all thing tallest, highest, widest, largest and biggest – tallest buildings, highest waterslides, widest roads, largest choreographed fountain and biggest malls.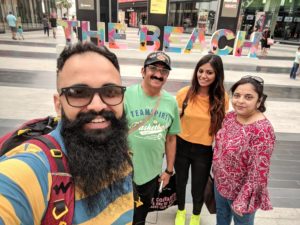 While Dubai is like a mini world city, it gave us major India feels. You'll find Indians and loads of Indians all around, with some Pakistanis and Bangladeshis thrown in. From eating proper Punjabi food to bumping into school friends, we were not in India but in India (if that made sense). And world-city I say is because, it gives you super easy access to any part of the world. Not just that, from a safety pin to a 163-floor building, from pani puri to a 15-course meal, there's sea, sun and sand, there's sky diving and white-water rafting, there are camels and then there are whales – you name it, you'll find it in Dubai.
While metro is the most convenient means of transport in Dubai, buses and Ubers are readily available too. We opted for metros and then walked the major part of the city because like they say, the best way to explore a place is by foot.
Day 1, we were sleep ridden, so we decided to laze and unwind on the beach of Jumeirah. While the public stretch of Jumeirah beach was extremely crowded (PS: we landed on a weekend), we were lucky enough to find a quite spot.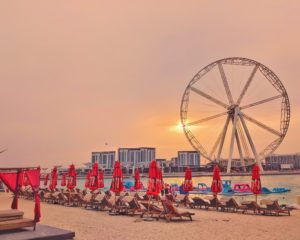 Clear waters, cool breeze and sunset – it was a dream eve. We then took a long, airy stroll around Dubai Marina (one glance around and you'll forget Manhattan) to reach a good friend's house to dinner. The view from their gorgeous home was to die for.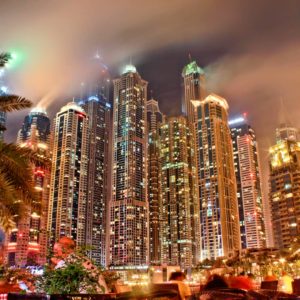 Day 1 ended on a great note – good Indian food, giggles and laughter, some school gossip, and on our way back a pit-stop for our only love, chai at Tea Talk, Filly.
Day 2 started early. Having heard so many stories about the beautiful and popular Kite beach, we hit it up just before the dawn. Words can't express what our eyes saw.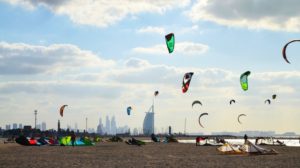 From locals doing their morning thing – yoga, walks, cycling, running, to people just sitting on the beach breathing in the salty air, and oh, the view of the magnificent Burj Al Arab standing tall in the middle of the sea – it was pure serendipity and at its finest.  We could stay here all day but the sun god decided to shine bright and harsh upon us so we then moved on to doing the touristy thing – mall hopping. We brunched at the mall of emirates, munching on the shawarma (sliced meat stuffed in bread/romali roti), hummus and sea food at the Eat Greek restaurant. With happy tummies, we then decided to take a metro to the mall of Dubai.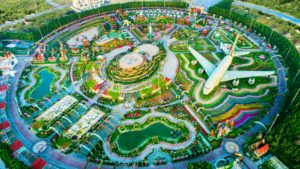 But one glance out of the window, the cloudy sky made us do the much-talked about Miracle garden. Apparently, it is the world's largest flower garden with around 45 different species of flowers. Large it was and so was it spectacular. Who would have even thought that a desert could grow such lush green plants and colorful flowers. But amidst all the colour and beauty, the one thing that caught our fascination was the replica of an Emirates A380 covered in over 500,000 fresh flowers and living plants. JUST IMAGINE!
Day 2 was pretty long. With lot of time in hand we decided to visit the Dubai mall which was like a mini city altogether. Our agenda wasn't shopping, but to go on top of the Burj Khalifa and of course, see the musical fountain.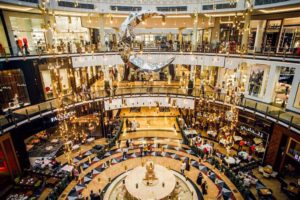 We were taken to the 124th floor and what we saw there was beyond one's imagination. It's fascinating how you see the sea, the concrete jungle and the desert – all from one point. That's the thing with Dubai – just when you think you've seen the best, something better comes your way.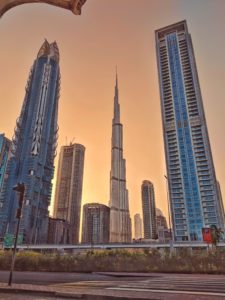 Next was the fountain show – another feast to the eyes.  The spray of water in the sky, the lights, the colors, the music – all spread across the 30-acre manmade Burj Khalifa lake. Dubai, meri jaan!!!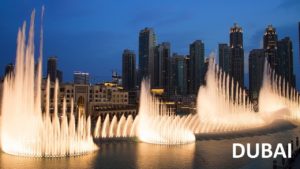 If you ask me what's the best part about Dubai, I'll say, bumping into friends randomly. And if those are your close ones then it's like icing on the cake. That's exactly what happened to us. On our way back, while still in the mall, we bumped into hubby's close friends. They treated us to some lovely chai and buns from Papa Roti – evening made!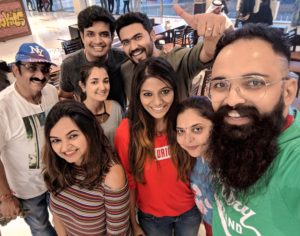 Day 3 was reserved for La Mer beach and Dune bashing.  This beach you can't afford to not visit. The breezy-calm that one feels here is unmatchable. We sat here for hours, ate and planned the rest of our 5-month trip. We could stay here all day but as planned, we had our desert safari scheduled at 3:30pm.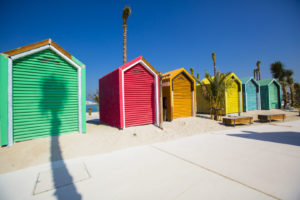 Our sand dune bashing needs a whole new blog altogether, that's how much fun we had. We were picked up from our apartment and driven to the desert. The vehicle's tyres were then deflated and that's when the real fun began. We experienced a varied array of emotions –  from excitement to fright, laughter to dizziness, OMG, dune bashing is definitely not for the faint hearted. The land cruiser sped over small and huge dunes, turning and twisting – truly once in a life time experience. We also did sand surfing which was fun. Shagun and I are suckers for sunsets. So, when that happened and that too in a desert, we did nothing but simply basked in all its glory.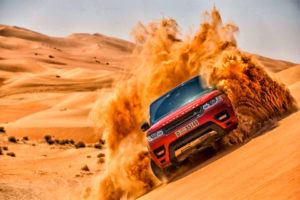 Our desert safari was the best we did in our three-day stay in Dubai. We rode on camels, rolled in the sand, there was dance, music and food – we had a splendid time.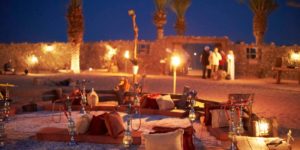 After 3 days of pure bliss, we had to say good bye to the city. Would we come back? Oh YES. We're now heading to Egypt – a dream that's finally going to come true. Stay tuned.