Le Vantage sounds French, carries Greek architecture, serves Continental food, plays Deep House and Underground music and is in Hyderabad! Unless you have been living under a rock, you would have heard about how stunning the place is and seen the ethereal white structure on your social media feeds. If you thought it looks gorgeous in the pics, wait till you walk into the place and be awed a lot more!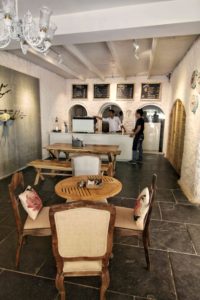 I love when anything new opens without a trace and I have to think hard about what was there earlier. Having been to the Mocha Bar a couple of times, I never noticed anything opposite to that. But this time when I went into that lane, this sprawling property caught my eye.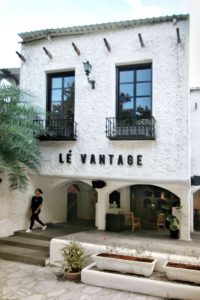 Le Vantage is straight out of those Santorini postcards, one look and you will be mesmerized for sure. Simple white structure, accentuated by some well places black outlines and multiple sitting areas. Owing to how big the space is, even with a 200-seating capacity, it still feels open and airy! What's noteworthy is that even with this setting, this is not a fine-dine or family outing space. It's a Café Bar with good music and lot of good times.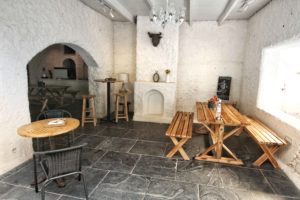 Natural greens, earthy furniture, simple flooring and the omnipresent white – Le Vantage lures you in effortlessly. The open-space on the outside has casual seating with a nice bar counter on the sides. Walk into the hall and it's a cozy café or breakfast place. On the floor above, casual seating continues and a bar to go with that. Since it's open on 3 sides, the natural lights fill up the place pretty well. Given the Hyderabadi afternoon time, we chose to sit inside on the top floor.
Food at Le Vantage Cafe Bar
The menu is apt for a Café Bar setup and loaded with finger foods, sandwiches, pizzas, pastas and it meat heavy. The bar menu is loaded too and works well for the place. It's always about doing the simple food well, rather than trying to be quirky and mess it up. And we set out to check the food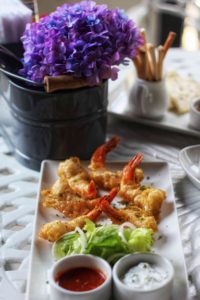 We started with Tempura Prawns which was light, non-greasy and very subtle. The dips complimented it really well.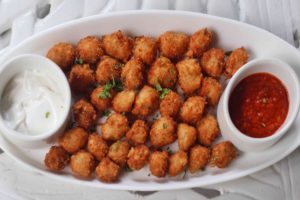 If I ever see Chicken Pop-corn on a menu, I always order that for sure. It's one of those dishes which is perfect for nibbling on while you sip a drink.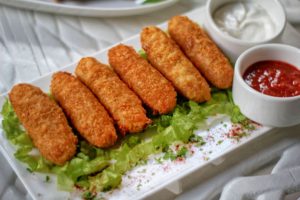 Next up was the Minced Chicken Croquette that looked stunning with that perfect golden color. The mince inside is not too spicy or overpowering the batter. Again, don't miss the dips!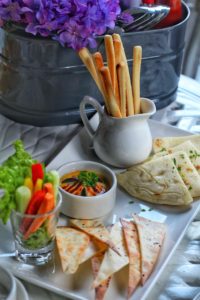 With the feel of a Mediterranean setup, you definitely need the Humus Platter! The one here is loaded with accompaniments and the Humus shines bright. It's just how I like my humus – creamy, smooth and light.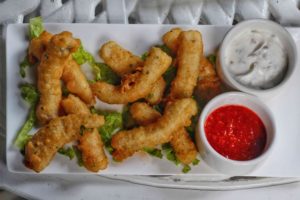 Going for some more seafood, we got the Fish Orly. Another snack which is perfect for a café setup. And that Tartar sauce packs a solid punch indeed.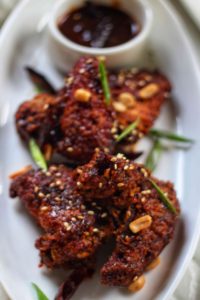 Another weakness is the Chicken Wings, so I got some here too. One look and I knew this wasn't like the usual wings. The ones here are crumb fried first and then tossed in BBQ Sauce. Once the sauce is soaked up, it is topped with sesame and groundnuts.
While glancing through the menu, I had seen the Bacon dishes and I wanted to try them out.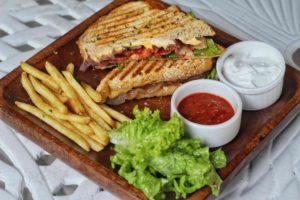 So, from the Sandwich section I went for the Classic B.L.T – Bacon, Lettuce, Tomato. It came out looking a million bucks and I had a huge smile just looking at it. One bite and it was an explosion of awesomeness. Special mention for the kickass bread used for this one – crunchy and light.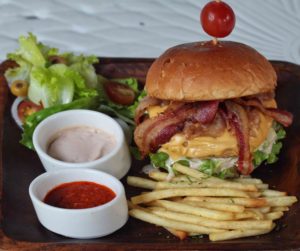 In the Burger sections there was the Tenderloin Pepper Bacon Burger. This was monstrous, greasy, messy, loaded and dirty – exactly how a good burger should be. The patty loaded with the fat kept oozing beautiful juices with every bite.
Mains at Le Vantage
When you have steaks on a menu in Hyderabad, never miss it! Drunk Beer Steak caught my attention for all the right reasons. The meat was nice and juicy, but the sauce on the side dint compliment it well. The chef noted the same and assured us that he will work on that.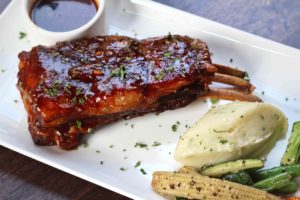 Another rare sight on a Hyderabadi place is Pork, when it's with the Jack Daniel's BBQ sauce, it's a sin not to order it! The Pork Ribs With JD BBQ Sauce came out looking like a dream. Please note that this is a huge huge portion. Also, they are still getting over the usual problem of souring good Pork. While ordering please specify the fat to meat ratio that you would like.
Desserts at Le Vantage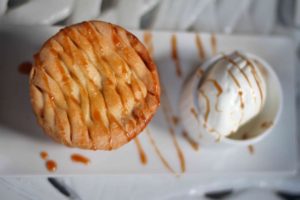 Giving a break to the Apple pie, we got the Pumpkin Pie with Ice-cream. A little different from the usual pie, this one was bigger and fluffier. I missed the slight crunch of a good pie, but they are trying our multiple options to get it right.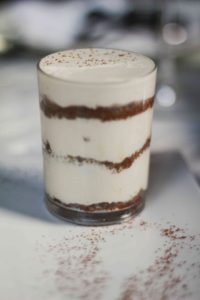 The Tiramisu was served in a shot glass and carried a strong coffee flavor.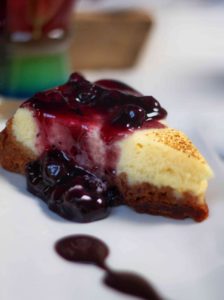 I always hunt for a good Blueberry Cheesecake and it continued here too. Just the sight of a proper non-cream cheese is enough to get me excited. This one had a slightly thicker crumble and the cheese managed to shine even with that.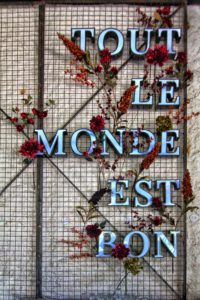 Drinks kept flowing, good music played, and slight evening feels came out and we knew this had been a good meal. They are still very new and yet the service is top-notch. Just a little tweak in the food and they are all set to roar.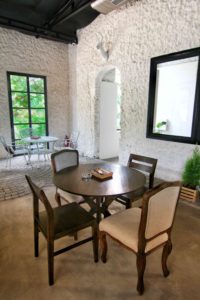 PS – They are also open for breakfast from 8am, and given the quality of meat and portions that we saw, that fare should be amazing too!