With the rains just about hitting Hyderabad and the weather being cool and perfect, it's the best time for long drives. And when that long drive ends in good Mexican Food, you cannot ask for anything more! Plus, this weather makes you crave all kinds of spicy, fried and basically masala kind of things. If any cuisine comes close to Indian, in terms of masala, spices and knack of frying things, it's Mexican food.
So given the few options we have for good roads around Hyderabad, we picked the airport road. A little messy around Attapur, but then it becomes total 'makkhan' in no time! Since this stretch lacks good dhabas, we decided to try out the Mexican Food Festival at Novotel Hotel. My tryst with Mexican food in Hyderabad was confined to just the food truck called Chipotle in Gachibowli, and even that disappeared.
So after riding around, soaking in the weather and cherishing the perfect roads for about 20kms, we finally reached Novotel. Went straight to their restaurant – The Square!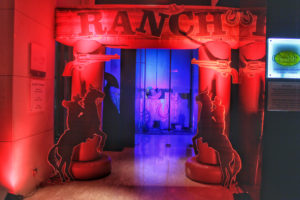 To go with the theme, they have decked up the place a little and has some cowboy cut-outs too. I was wondering if I would be able to appreciate just Mexican food, since I hadn't really had authentic stuff before. But the good thing was that they were also running the normal buffet set up. The Mexican set up was done in the open air, given how much frying, tossing, stirring is involved in Mexican food, it made sense to have it outside.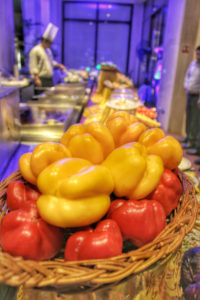 I decided to keep the usual stuff on hold till I could and start with the Mexican food ensemble! Took a short walk to the area and I liked what I saw. Colorful peppers, corn, meats, salsa, dips and fresh nachos was as Mexican as it gets! The portions on display looked apt for 1 person so I decided to try all of them. The chef was making it all fresh so we could actually see what was going into the dishes. I requested him to keep the portion as small as possible, so that I can relish the whole spread and still squeeze in some desserts!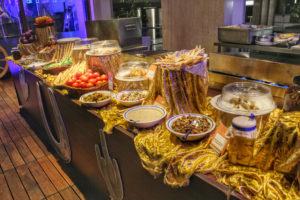 Mexican Food Festival @Novotel Hyderabad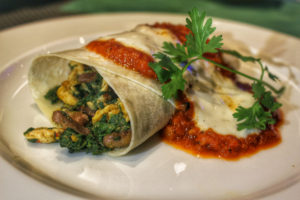 First up was the Enchilada. A perfectly rolled tortilla stuffed with chicken, spinach, kidney beans, onions, cream cheese and topped with a fiery chilly sauce. The Enchilada on its own was fresh and has easy flavors, but one touch of the sauce and it went to another level. The best way to eat Mexican food is to ditch the knife and fork and just bite it off like a roll. It can get messy, but totally worth it! The vegetarian option had mushrooms, but I dint get to taste that. Had to save the appetite for meat!
Nachos is like an eternal favourite Mexican food for me. Every Friday night meal starts off with a box of loaded nachos mostly. Here, it came with a twist! More like a make your own or even dip as you like. A bowl of nacho chips was places in the centre, and around it we had jalapeno salsa, bean salad, meat chunks, sour cream, cheese sauce and guacamole. I went with make my own chip, rather than make a bowl. So one chip at a time, topped with different stuff. The salsa surely packed a punch and the sour cream and cheese mellowed it down. I would say, go crazy with the Mexican food while you can and make one like no one's watching.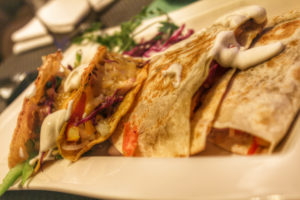 Tacos and Quesadilla made for the perfect clichéd Mexican food starter package. Somehow I ended with some potato stuffed tacos but then I don't waste food so took one for the team and had it! Taco was crunchy and yet it dint fall away with the potato stuffing. I managed to finish it off without making a mess of it, and I am proud of that. The Quesadilla wasn't that easy though. The stuffing was a little more generous and hence there was a lot of spillage and oozing out. All that made for a lick your finger act, not sure how it was on the eyes. But still this Mexican food made music to my taste buds, I wouldn't care!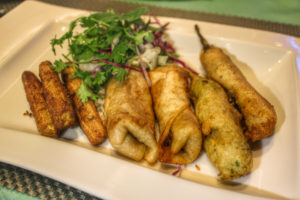 I spotted some veg stuff on the table too. One thing that intrigued me was a mirchi bhaji look-alike staring at me all the while. I was like 'oh Mexicans food has mirchi bhaji too'. I picked one and took a bite. This one was stuffed with cheese and the mirchi was coated with some mix of flours and not the usual besan. Chilli was also different and not too spicy. We had this discussion on what chilli was it, because we hadn't seen a full jalapeno in India. So we checked with the chef and this was some imported form of the chilli that the Mexicans used in the original recipe. Also tasted the fried baby corn and a Mexican version of the spring roll, called Chimichanga but that was just a detour on my way to the meat!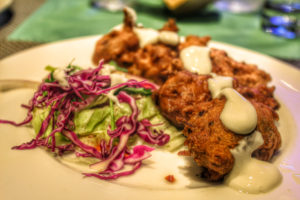 The fried chicken wings as Mexican food was a first for me. The usual ones are topped with some sauce, but this version was just batter fried wings with some dip on top. But the chicken inside was spiced well and the top coating provided a cushion. I would still prefer the BBQ wings, but then this was a nice change.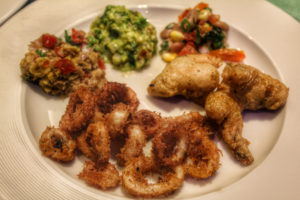 I saw those little rings on the plate and my eyes lit up! By no means had I imagined I would get some fried Calamari that evening with Mexican food. Crisp and fried to perfection, very little can go wrong with calamari anyways. I almost ignored the batter fried prawns. Even though it was fried, the prawn still held its own in there. The star of that plate was the spicy grilled chicken hidden below the calamari and the salad. One bite and I knew this was the star of the starters brigade! Succulent, spicy and charred to perfection, enough said!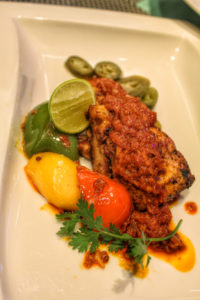 We hadn't seen any fish along with all Mexican food and it finally made an appearance. Cajun Grill Fish topped with the same spicy chilli as the Enchilada. Little bite of the fish with the bell pepper and a dash of the chilli. I am not a fish fan though so passed it on.
Took a little stroll to check the other usual buffet options but the Mexican food call was too strong to resist! A few drinks to just catch a breath before the main course onslaught! I had seen the menu and I knew there was a lot to come – chicken, fish, lamb and some beef too!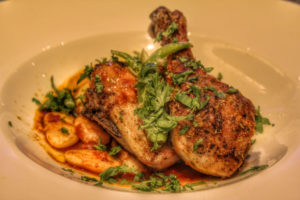 The Mexican Chilli Chicken came with 2 gorgeous looking pieces on a bed of beans. The skin was a beautiful golden brown and I could see some hint of red in the chilli too. I attacked the leg piece and I was glad I did it! Again like all dishes, the chilli here isn't the burn your intestines level chilli, just about a little punch while you eat it and then fades away. Very easy on the palate.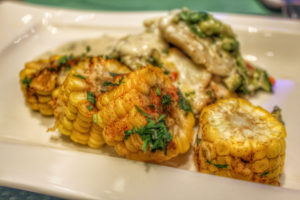 COC – Corn on cob is my favorite addition to any dish. Here it had a cheesy twist to it. But this time it was with a vegetarian dish made of sweet potato and avocado. Topped with fresco sauce, this dish had everything I loved. Only if the potato was replaced with meat, it would have been my dish for the night!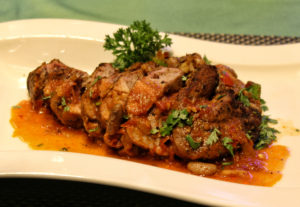 Ever since I had scanned the spread, my soul was waiting for the leg of lamb roasted Tex-Mex style. I had been saving my appetite for this one dish and planned it perfectly for the end. I knew this would be the one portion I would finish alone. The quality of the lamb meat was amazing and cooked to perfection. Getting such a huge chunk of lamb to cook evenly is a huge task and the chef got it right here! I dint want any more of the chilli on top so asked them to mellow it down a little.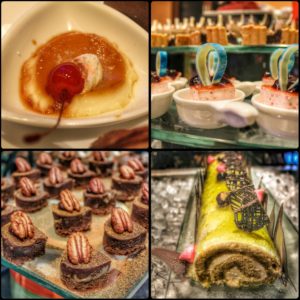 Almost knocked out by then, but you just don't leave without dessert no matter how much food you have had! I wasn't sure there could be any authentic Mexican desserts but they had a few fusion things. The chocolate taco was stuffed with dark mousse which was simply superb. This was followed by some brownies and ended it up with a coconut based custard which I was told is as Mexican as it can get for desserts. But then I could just take one each and then had to wave the white flag for it to stop!
We ate to our hearts and stomachs content! The weather was still pretty amazing for a ride back. A stop on the highway for chai was all I could think of, because be it Indian or Mexican food, ending it with chai is a must!
Where: The Square, Novotel Hyderabad Airport
Time: 07:00pm -11:00pm
When: Every Friday from 10th June 2016 onwards
Tel.: 040066503082
Pricing 1849++