Mighty Small Cafe – the carnival themed café that was present at all Smaaash outlets in Mumbai and Bangalore finally started off in Hyderabad too. So people who were at Smaaash and had to depend on the okay-ish food court for their breaks, can now rejoice. A place with games being their forte, doesn't do a good job of the food department.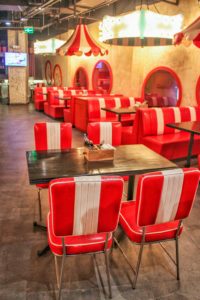 Red and white interiors with merry-go-round lights and swinging benches do justice to the carnival feel. I loved the van projection on the wall, hope there was a table at it or something more to it. The menu has most things with a twist and perfect for a quick snack or a laid back meal with friends.
The menu carried the craziness of the theme and looking at it, I couldn't decide on what to ask for. From bhajis to crostini to fondue, they have it all, alas with the twists.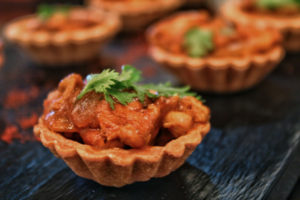 Murgh Do Pyaza Tartlets – Having heard of tarts only as dessert option, this one was a first. The serving was beautiful and the tarts were crisp. The Do Pyaza curry in it was a delight and went perfectly with the tart base. You just can't hold off popping them up one after the other.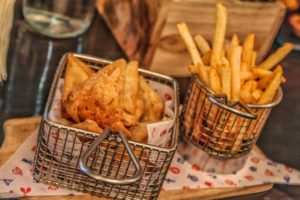 Kheema Samosa – When someone mentions kheema samosa, the mind wanders to the bylanes of old city. Where an old man would sell those small samosas from a cycle with some fried chillies along with it. Here it came a little bigger, served in a fryer pan and had French fries as add-ons. Not oily or soggy but rather crisp and the kheema was filled in well too. Definitely a superior version of the street snack.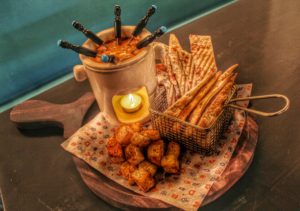 Makhaani Fondue – The original cheese fondue has undergone so many twists – chocolate fondue, pav bhaji fondue, Chinese fondue – that the fondue itself doesn't remember what it was meant to be. Here it became makhaani, served with toasted bread pieces, naans and crisps.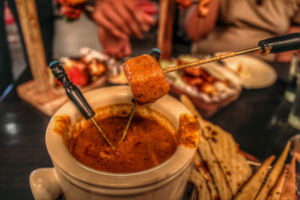 The makhaani was so so good that I wished they had added some chunks of chicken to it. That would have made some killer butter chicken. I ended up gulping that gravy on its own as well.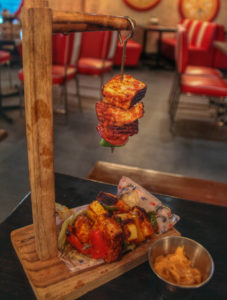 Peri Peri Paneer Skewers – Another twist on this one was the serving manner. Skewers hanging upside down on the wooden post. Served with some mayo sauce but it dint really need any.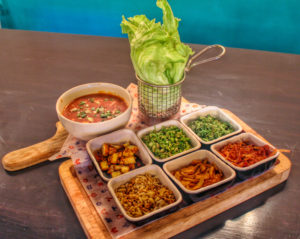 DIY Lettuce Wrap – I don't fancy vegetarian food but from time to time it just blows me away. This was one such time. The platter came on the table and was a treat to the eyes. Some of the freshest and crunchiest lettuce that I have seen in Hyderabad. Topping options of fried garlic, peanut powder, chillies and some soy based tofu and finally sweet-chilli sauce that stole the show for me that day. It's a task to roll that leaf with all the toppings, but then it's like a huge flavour bomb.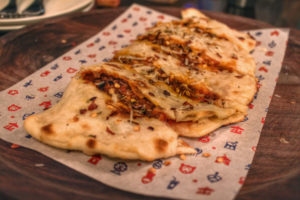 Butter Chicken Calzone – Another dish with a twist. And having tasted their makhaani I knew that the filling would be amazing for sure. The calzone combined with that was just perfect. Some would call it just a stuffed naan, but then that is where the twist lies.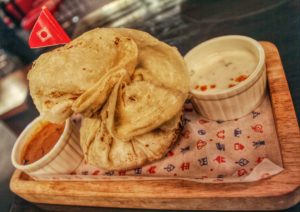 Hyderabad Mutton Biryani – Since they brought the café to Hyderabad, they had to put in the Biryani! No place in Hyderabad is complete till they have Biryani on the menu. When it arrived, I knew they had saved the best presentation for the last. It was like a pot tied with a string. The biryani was inside a roomali roti. And served with salan and raita. Quantity is enough for one person. The flavors are all there and come together really well.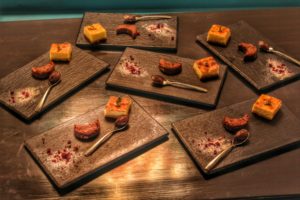 Cheesecake, Brownie and Tequilla mousse – The Dessert platter was just apt and a fine finish to the whole meal. The cheesecake was melt in the mouth moment and I definitely wanted more of it. The mousse had the little kick in it but went down smooth and easy. Even the brownie was simple and well done. After all the fancy stuff served earlier, something simple was needed to end it.
So now the team outings, weekend trips and gaming sessions at Smaaash would be lit up by this amazing food spread as well.
Location – Smaaash, Inorbit Mall