Long before everyone wanted to do quirky interiors, flashy food and interesting combos, Mocha was launched by Riyaaz Amlani. He hit a home-run with this brand and made the-place-to-be-in on any Mumbai, Pune or Delhi trip. Then came another biggie – Social's, and the rest as they say is history! Mocha Bar Hyderabad is a move to reinvent the brand Mocha.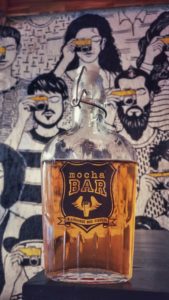 Impresario group is a huge name in Food now with places like Social's, Smoke House Deli, Stone Water, Salt Water, etc. under their umbrella. Amongst all these brands, they went ahead and created Mocha Bar along with the already thriving Mocha Café. Hyderabadis have loved Mocha in Banjara Hills and now we have Mocha Bar Hyderabad in Jubilee Hills too!
The first impression of the place is that it's huge! The exterior looks post and huge. Once inside, you realize it's bigger than you thought. They have a nice homely indoor seating and then an airy outdoor setting. Mocha Bar Hyderabad logo is nice too and the aesthetics of the place convey cheerfulness. The crafty tiles, wood work, plants and elegant furniture, make up the indoor seating with a 'paparazzi' wall at the far side.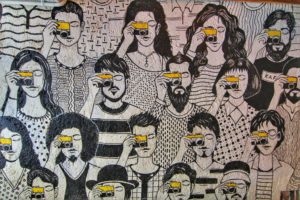 Mocha Bar Hyderabad boasts of a vast bar menu loaded with usual drinks, mysterious additions, twisted serving style and pretty strong too! Since I don't drink, I stuck to my Masala Chai and Hot Chocolate. But the food menu is even more loaded and vast at Mocha Bar Hyderabad. They have managed to carry forward the Mocha Café amazing food legacy.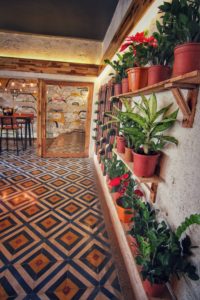 Mocha Bar Hyderabad Food Menu –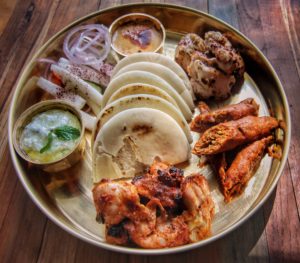 Lebanese Kebab Platter set things into motion bearing mild flavours, succulent meat and perfect accompaniments. The Pita was fluffy, warm and very fresh. The Shish Taouk was grilled nicely and carried that little hint of lemon. Harissa Chicken brings the fire to this platter with its chilly ensemble. Big places don't get the Seekh right because it is more about an open space, charcoal smoke all around and more so when it's with chicken. But the Chicken Seekh was brilliant and super soft. All this was served with Hummus and Tzatziki, both oozing flavours and made fresh in the kitchen.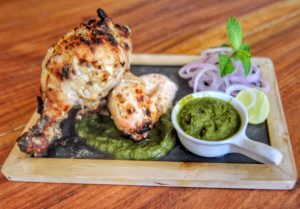 Stuffed Tangri brings Desi and Vilayati together. They say that the cheese is vilayati and the tangri is our desi. Grilled to perfection and served with mint chutney and onions, because some things you just don't twist anymore!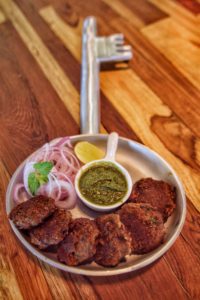 Next up we were told that there was a twist involved in the starter. They kept pronouncing it as Key-Bab, which dint make much sense. But then we saw – Mutton Shami Key-Bab. Shimmering Shamis placed on a serving dish that looked like a key, hence Key-Bab. Again, the usual chutney and onions stayed. The Shami flavours came out right, but I felt that the Shami melt-in-mouth consistency was amiss. Surprisingly it was there in the Veg Shami.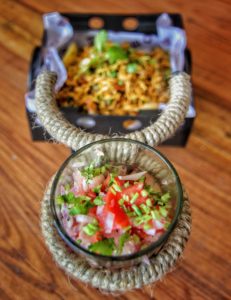 No bar is complete with a proper chakhna, and Mocha Bar Hyderabad is complete and how! The chakhna is served in a decked-up carriage called Bombay Bhel Version-2. It is tangy, spicy and crunchy. And if you do miss some kaanda and tamatar, just top-up from the basket in-front of the carriage.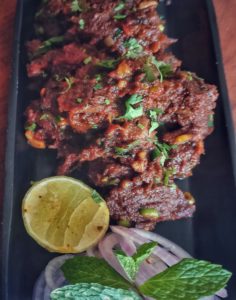 Put ghee-roast before any food and it becomes amazing. And then it is Ghee Roast Mutton Boti then you already know what it's going to do for you. Now roasting mutton is super tricky because one moment it's under, next it's over and there's a very fine moment of perfect! A good handful of Mangalorean spices are added to this one and then topped with desi ghee. This one was hot and chilly with some really tender meat.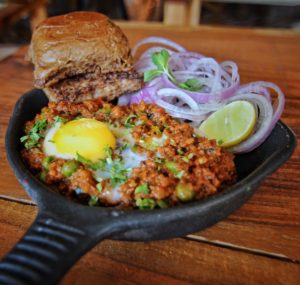 Going with the café thing, Mocha Bar Hyderabad has put a lot of local 'bambaiya' stuff too. Keema Ghotala with Buttered Pao has to be ordered if it is on any menu in the World! A bed of snazzy keema, topped with an egg and onions on the side – it's a pretty picture indeed. The buttered pao is a brown pao here, in case you were into the 'healthy lifestyle'. Every bite into the keema with the pao takes you right to a Irani café in the bylanes of Mohamed Ali road in Mumbai.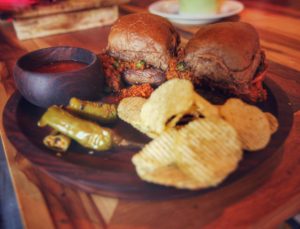 When you already have some delicious Keema oh your hand, why not make something more with it! And hence the Matar Keema Pao Slider was born. A typical on the go snack served in a wooden dish with some chips and chillies.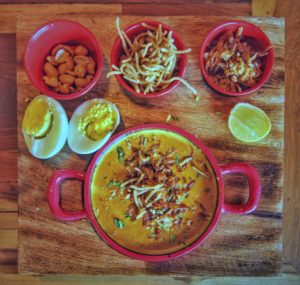 In a menu that is so varied and vast, having the Burmese Chicken Khow Suey Bowl was no surprise. It actually looks so pretty and neatly set that you don't want disturb it. More like a DIY bowl this, with garnishing's served on the side too. But I liked it just as it was, nothing less, nothing more.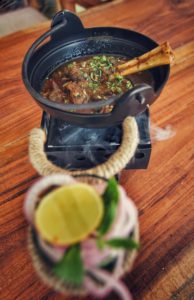 Almost knocked out by such an overload of cuisines and food, we still wanted to see what they did with the Hyderabadi main course at Mocha Bar Hyderabad. So the most obvious choice was the Gali Ki Nalli Nihari. Here also the mix of spices was perfect. And there are so many variations of this dish that you can no longer say which one is authentic. Along with the hot naan, it made for a perfect end to the main course.
The food trail had been pretty amazing at Mocha Bar Hyderabad but you always leave some space for desserts. We weren't sure about what was going to be served but I was curious about a few and wanted to see how they had managed to add these twists.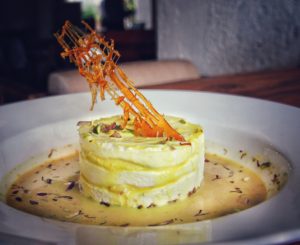 The first choice was the Rasmalai Cheesecake because how can you not have anything that says Rasmalai. And boy was this good, or was this Gooood! One bite and I could taste everything and it all felt so much in harmony. I am guilty of overeating with this one but in my defence I just couldn't stop. I would easily place this one in the top-5 desserts you can have in whole of Hyderabad. That's pretty awesome considering the fact that Mocha Bar Hyderabad is so new into the food scene. Hope they keep making it as amazing as this time.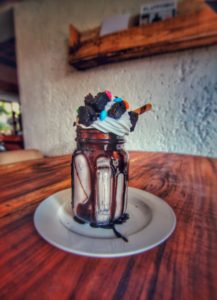 Freak shakes are still in and they just keep getting bigger, meaner and freakier! Oreo Cookie and Fudge Brownie shake was as thick and loaded as it can get. Looked nice and packed a punch of richness too. But I dint want to indulge more and save up for the next thing.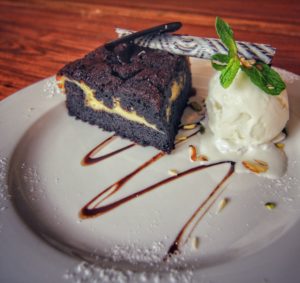 It was then another cheesecake on the table. This time a Cheese Cake Brownie, with cheese stuffed between brownies and topped with gooey fudge sauce. After the previous cheese cake this was more like a faint competitor.
A special mention for the innovation and thought put into the drinks. Although I don't drink, I could see the others enjoy their drinks a lot. Right from serving to the packing to the mixing, load of options to choose from at Mocha Bar Hyderabad. Some of the drinks Miami Iced Tea Vodka, Peri Peri Bloody Mary Vodka, Moscow Mule, Smokey Whiskey, Jaali Whisky, Sipper Tripper, Mr. Cane, Talli Gup Chup, Goli Soda – Pulpy Narangi Gin.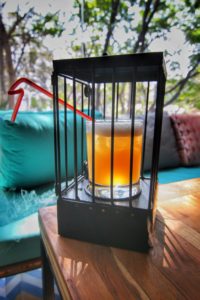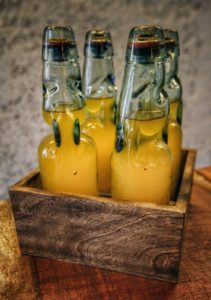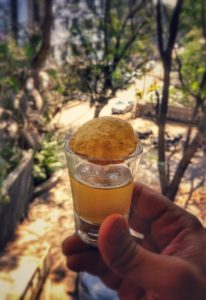 Overall such a satisfying meal and a long one too. Perfect ending to it was the cutting Chai and some hot chocolate as well.
Mocha Bar Hyderabad is here to stay and if they can keep this same flow going, it's going to garner a lot of patrons. And given they are around the ever so busy Jubilee Hills area, they need to keep a tight grip on the things.
Also, look at it like if this does good business for Impresario, we can get the other brands too. Now who doesn't want Social's and Smoke House in Hyderabad!
Location – Mocha Bar Hyderabad