Surrounded by hills, temples, spirituality and tranquility, 'the rose garden of Rajasthan' – Pushkar…. Ah! The quaint old-world elegance!  It reminded us of how pretty our country is. When a place as tiny as Pushkar boasts of such sensuous experiences, it's only human to narrow down on hotels that add value to these experiences. That's why we chose Hotel Brahma Horizon, and boy did we make the right choice!
The Property – Hotel Brahma Horizon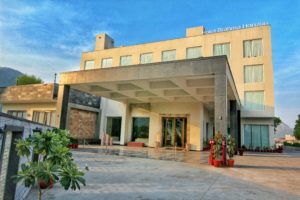 Located in the by lanes of the holy city, surrounded by beauty and peace, lies this private hideaway, Hotel Brahma Horizon, a luxury hotel, which assures some top notch service and tasteful luxury.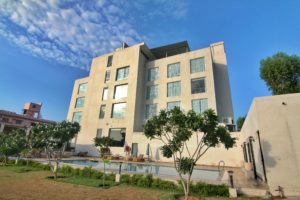 As we glided our way through the entrance, into the reception, where we were greeted with an oh-so-warm and cheerful 'Namaste', that was the moment we knew we wanted to park ourselves here for the rest of our trip. Talk about traditions!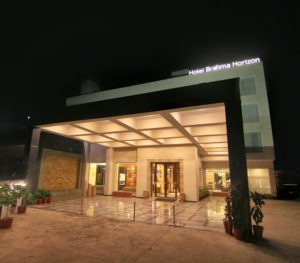 The Rooms at Hotel Brahma Horizon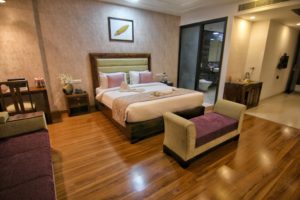 Hotel Brahma Horizon brags of its luxurious suites, equipped with spacious, modern bathrooms, cozy beds, and a magnificent view from the room. While we simply loved the shower cubicles, our favorite had to be the floor-to-ceiling window overlooking the large swimming pool, the well-manicured acres of green grass and of course, the Aravali ranges.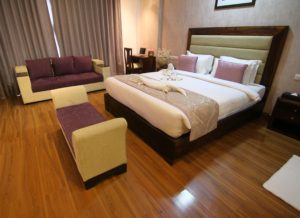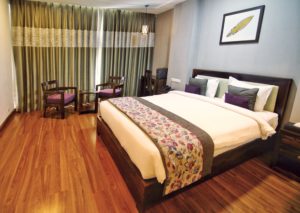 Poolside Fun at Hotel Brahma Horizon
With sunny skies almost guaranteed in Rajasthan, we spent our afternoons dodging the heat by lounging in their playful outdoor swimming pool, munching on pizzas and sipping on shakes.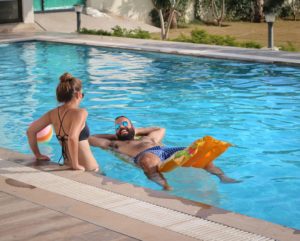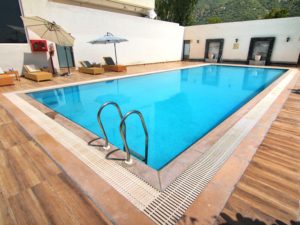 Rajasthani Folk  Group Performance at Hotel Brahma Horizon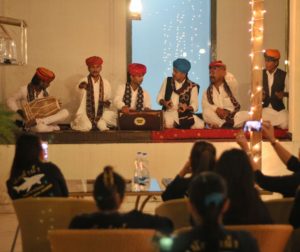 Our evenings were eventful, but if I was put at gun point and asked to take back one memory from my stay at this property, it would be the Rajasthani music night, by the one and only Manganiyaar group.
Falling In Love with Hotel Brahma Horizon
I am not exaggerating when I say Indian hospitality is the best in the world, a class apart! So warm and courteous were the staff of the Hotel Brahma Horizon, we were lavished with attention and love throughout our stay. The hotel managers made it a point to talk to all guests, something we've never seen elsewhere outside India.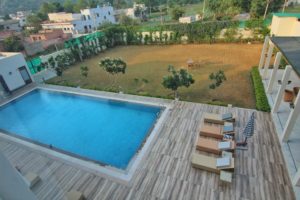 There were so many conversations, smiles and good vibes in the air; this mix of experiences made it very hard to leave.
But as they say, all good things come to an end, this had to end too. Our short stay at Pushkar's gorgeous property, Hotel Brahma Horizon, came to an end and what an unforgettable stay it was!
Location – Hotel Brahma Horizon, Pushkar
PS – Next up is the food blog from our amazing stay!