Every year I would wait for Ramzan food festival to start and then plan a trip to Hyderabad. Then jot down the places and the food I wanted to try and move around trying to cover all the Ramzan food in Hyderabad. This was easier in Bangalore with all shops being set up in one area around Mosque road and you can just walk and keep eating. Ramzan street food in Hyderabad had just one small Old City trail, which almost everyone was following for their dose of Best food for Ramzan in Hyderabad.
Last year, that changed! We had the Zaiqa-e-Ramzan food festival, Pillar number 47, was the talk of the town. A nice sit down place with 20 lip-smacking foods for the meat lovers. Their 'win a bike' was a huge hit too. Just the names of the dishes were tempting enough to pull everyone to the festival. The word of mouth was top-notch too and within no time, Zaiqa-e-Ramzan was in the top 5 places for food last year. The Patthar ka gosht, Sabit murg, Haleem and talwa bater were the stars last year!
Come Ramzan 2016, they are back with a bang with double zeal this time! Along with the set up in Mehdipatnam they are also at Khilawat grounds, next to Chowmahalla Palace. Old city food trail just got so much better!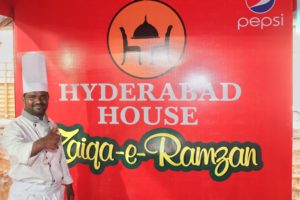 Chef Salim of Burhan Ustaad and Sons Group
New additions for the season, 20 stalls serving 40 delicacies and the same passion for serving good food carries on for this years Ramzan food festival!
Must haves – Patthar ka Gosht, Haleem, Double ka Meetha, Sheek, Paya, Talawa Gosht, Lahori kabab
New for the season  – Rampuri Dumdaar Seena, Aloo Gosht Asifjahi, Murgh Paigah, Chicken Liver fry
Explore this Ramzan Food Festival to Satiate the Most Scintillating of Taste Buds!!
Patthar ka Gosht – 

The show-stopper and in the lead role at any Ramzan Food Festival. The smoke from the stone and the lingering flavor are a sure shot crowd-puller. Made using the tenderest meat it is then put on the stone slab for the magic to start. The stone lends a different dimension to the grill and goes a spot above charcoal in the smokiness quotient.

Haleem – 

Chef Khosla mentioned that they make it a point they dont add any color to the mix and keep it real and simple. The texture is a little particle-ish but manages to be really smooth. Spice levels are perfect and garnish is plenty. The eat haleem, win a bike was a huge hit last year.

Kheema, Kaleji, Gurda, Bheja, Kapoore – 

Not for the faint hearted this one. A very distinct texture and taste make it a niche item. A favorite in this part of the country where we believe that no part of the animal should be wasted! The mix of Kheema-Kaleji is as far as I could go.

Talawa Gosht – 

Another Hyderabadi biggie at any Ramzan Food Festival! People swear by their Talawa Gosht here and it gets a lot of love and importance. The one here was truly melt in the mouth stuff, rarely do you find such soft gosht pieces.

Mazedar Mutton chops – 

Although low on meat, but what a punch do these chops give! No its not too spicy to give the punch, but rather the masalas are perfect and make you leave all aside and just suck those chops.

Lababdar Lahori Murgh – 

A little break from the mutton and a diversion to the chicken section. After all the spicy intake, this is a little break of sorts with just some herbs mixed in and then char-grilled to perfection.

Mugh Paigah – 

I had no clue what the name meant, but one bite and I was floating in Heaven. Not the usual curry dish and loaded with masala and flavor. One of the highlights for this years Ramzan Food Festival.

Poora fish fried – 

They called it Pomfret and I was pretty sure it was not. Then the guy behind the counter added Hyderabadi as prefix and they all agreed. A full fish tossed into the oil and served hot and crisp.

Double ka Meetha – 

The apple, peach, mango everything of my eye! My wait for a good Double ka Meetha in Hyderabad was finally over. Not too sweet like the usual ones, nor too high on added color. My original love is Shahi Tukda but then I am not getting that here anytime soon.

Mast Paaya Shorba – 

A Hyderabadi staple diet wouldn't be complete without this. Hence a must offering at a Ramzan Food Festival. Paya, Sherwa and Naan combo did right can touch any heart out here. Personally I have not fallen in love with it yet, but I really hope someday I can have one all by myself.

Baida Roti – 

The normal paratha taken a notch higher with this one. Stuffed with Kheema, sealed and then almost fried till crisp. Call it stuffed paratha at your own peril, because Baida Roti is the proper name. Cut in squares and every piece is bliss.

Hyderabadi Biryani – 

For anything Hyderabadi to succeed, the Biryani has to hit the high notes or else the performance wont be complete. Juicy meat, flavorful rice, medium spice levels with a thick shorba and fresh raita – enough said!

Sheek Kabab – 

When you can see the Sheek opening up a little, fat dripping over the charcoal and almost falling off the skewer, you know its going to be perfect. Served with mint chutney and onion, you just dont want it to end ever!

Shahana Sabit Murgh – 

Another star from last year. The sight of a full chicken on a tawa, cooking in that little gravy is mesmerizing. Goes really well with the naan. A little sour for my liking but I wouldn't mind finishing 1 Sabit Chicken with a friend!
One visit is definitely not enough for this place. So make sure you go in a big group, that way you get to taste everything.
Address –
Mehdipattnam – Pillar number 47
Old City – Khilawat grounds, next to Chowmahalla Palace
Contact Number – 7032777470