Before I got on that Scoot Airlines flight from Hyderabad to Ho Chi Minh City, there was one incident that kind-of sparked this trip. Having spent almost 2 months in South East Asia, I somehow never thought of Vietnam as a travel destination. But it became a backpacker option around 5 years back and continues to grow every year.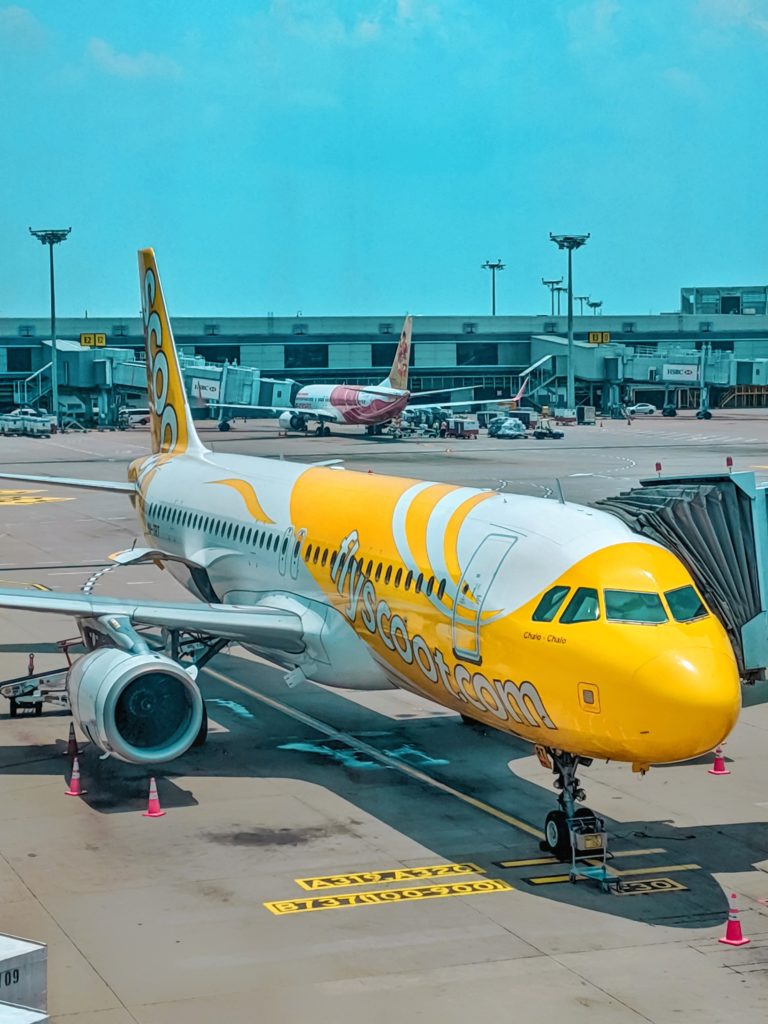 How it all started –
If I am not travelling, my favorite thing to do is planning trips for other people. That way, I stay updated with what's going on at those places and also end up finding new places for my own list. On one such instance, a friend called me to seek places to travel for 1 week. There was a budget constraint as well as time constraint. She had already been to Thailand, Dubai, Sri Lanka, whereas Cambodia dint feel like a 1-week trip. I ended up suggesting Vietnam and started looking for places to recommend.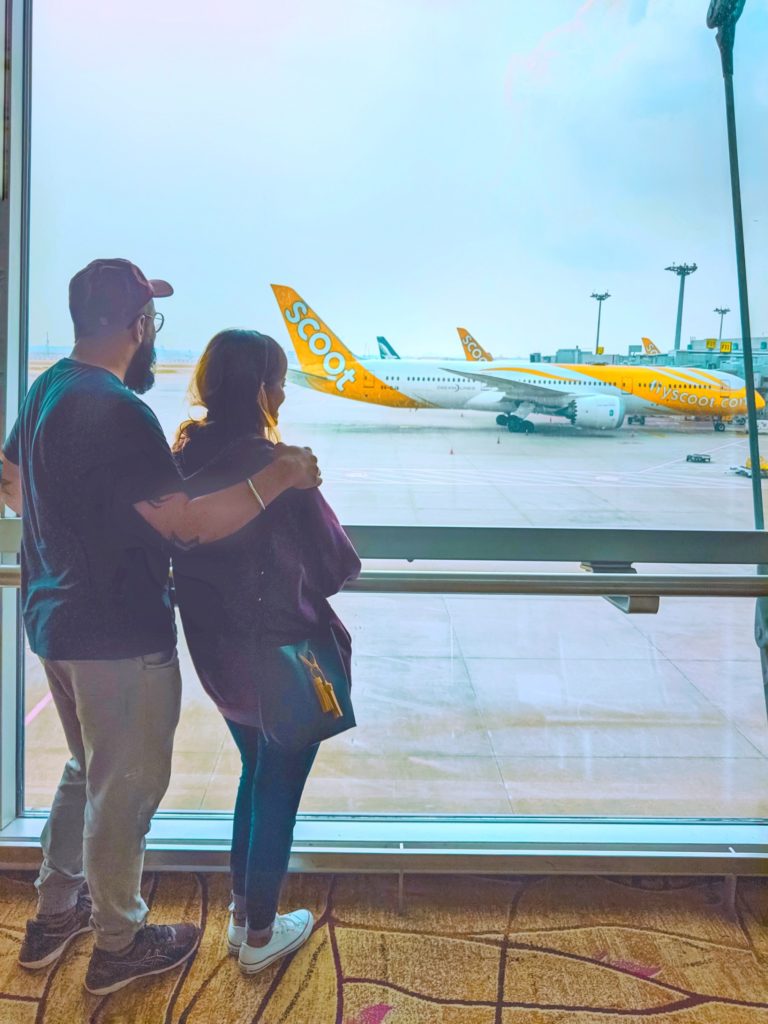 I just did a search on Google Trip to see what all places were interesting. I knew Halong Bay, Saigon and Hanoi but there was so much more. I was very surprised to see so many options spread all over the country. I jotted down a few names and checked the distance as well. Shared the list with my friend forgot about it. Then about 2 weeks later, I was talking to my wife about the long weekends in early October and how we should plan a trip.
Planning the Trip with Scoot Airlines –
We picked the dates between 28th September to 12th October, so about 13 days which I felt would be enough for Vietnam (it never is). We were flying with Scoot Airlines, which had a nice little layover in Singapore. Also, they have good connectivity between Hyderabad and Vietnam, so we could pick different cities for our flights.
Having noted down a few places in Vietnam, I knew it was a big country in length and we will have to figure out flights accordingly. We picked Hyderabad to Ho Chi Minh City flight to reach Vietnam. This way, we would start out in the Southern part of Vietnam and then travel all the way North to Hanoi. And then take the Hanoi to Hyderabad flight.
How to Escape the Ordinary with Scoot Airlines –
On the D-day, we packed right upto the last hour as usual and left for the airport. I always try to reach the airport atleast 3 hours before the flight. More than being on time, it's about my fascination for airports, the shops, the food, the lounge, etc.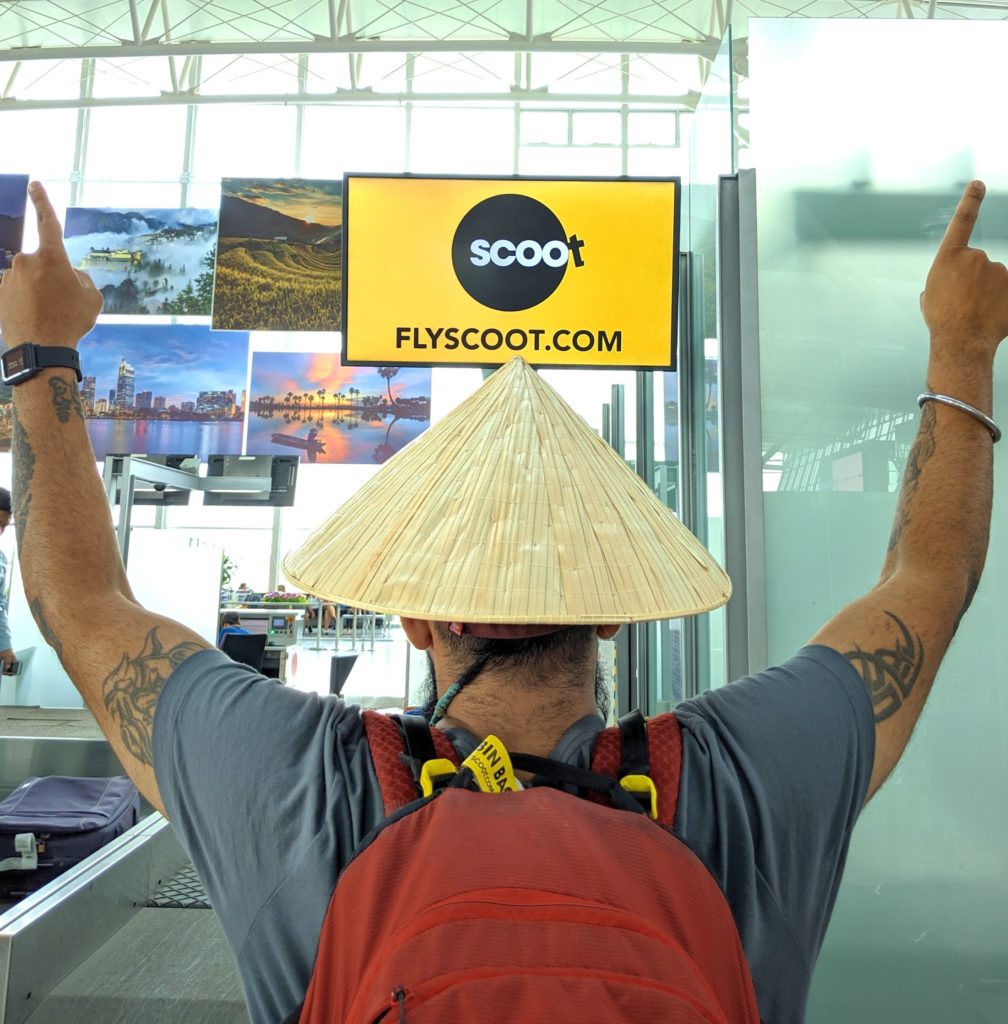 First up, we went to the Scoot Airlines check-in counter. Since we were early, there wasn't much wait time and we were at the counter. With the idea of taking up vlogging on this trip, I wanted to record everything. Even the check-in process, and the ground staff of Scoot Airlines was very supportive in letting me shoot the process.
We loaded our bags onto the counter and the staff put it off on the conveyer belt. We got our boarding passes and went off to explore what was new at RGIA, Hyderabad Airport.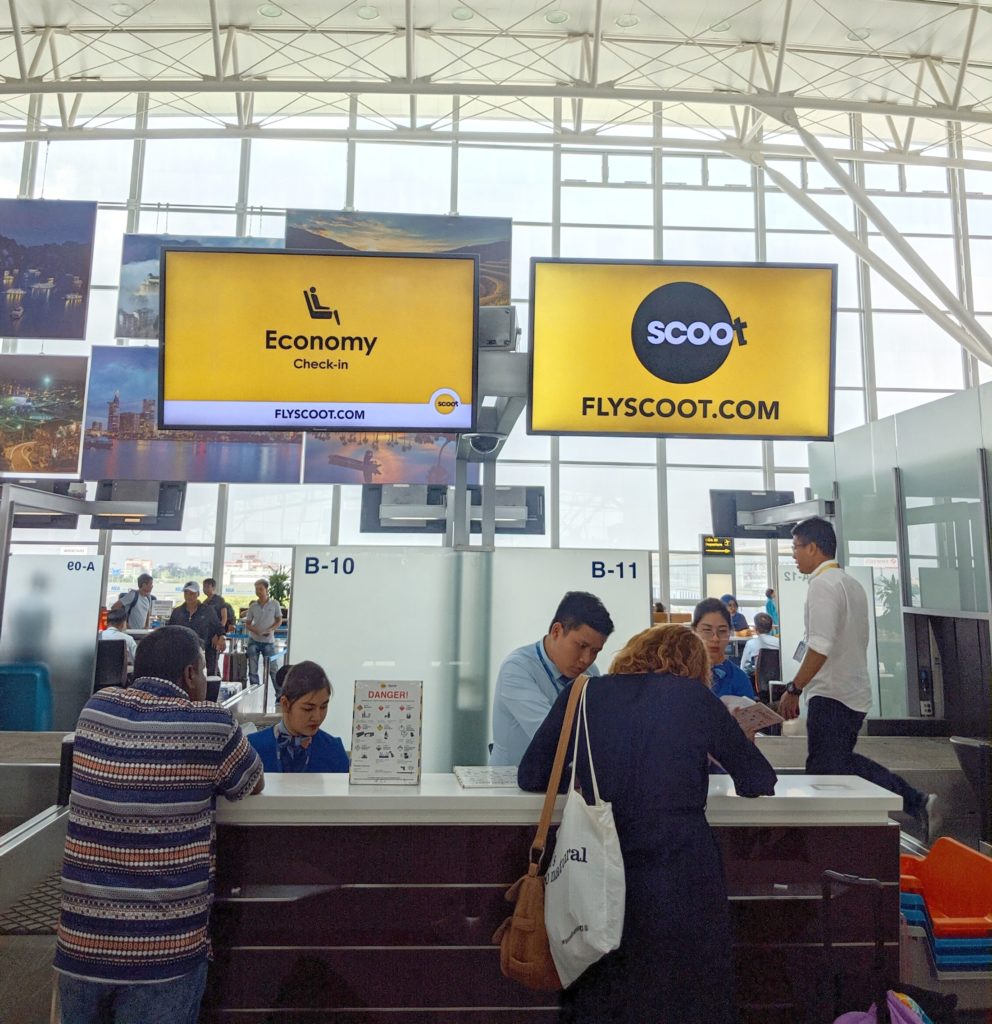 It was 12:30 am and our flight was at 2:00 am, so we had ample time to go do some last-minute shopping and then chill at the lounge. After munching at the lounge, we went to the boarding gate. Since Hyderabad Airport is a silent airport, there are no announcements about the flight, so always check your boarding time and reach the gate in advance.
The Scoot Airlines staff was there before time to set up their equipment for a hassle-free boarding. After a while, the staff signalled out that the boarding process had started and we queued up to get in. A short walk and went off of the skybridge and boarded the flight feeling sleepy already. The smiling flight attendants guided us to the seats and made sure that the hand-luggage was placed safely.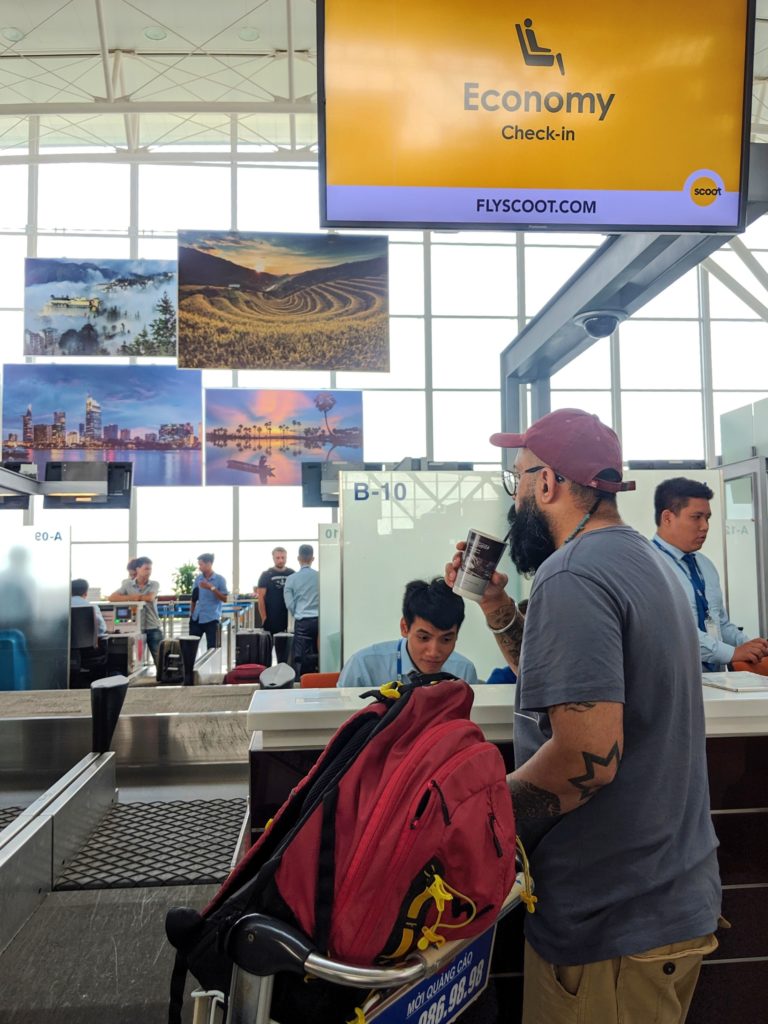 Having travelled in a lot of airlines in South East Asia, I am very apprehensive about the flights and the overall comfort. But thankfully, the flight was clean and ample leg space to stretch a little. We even took a short nap on the 4-hour flight from Hyderabad to Singapore. With the late timing, I wasn't sure about eating at the airport, so I had pre-booked the hot meals with Scoot Airlines. We had ordered for some Teriyaki Chicken and Makhani Chicken. This came as a meal with a drink and Ritter Sport chocolate.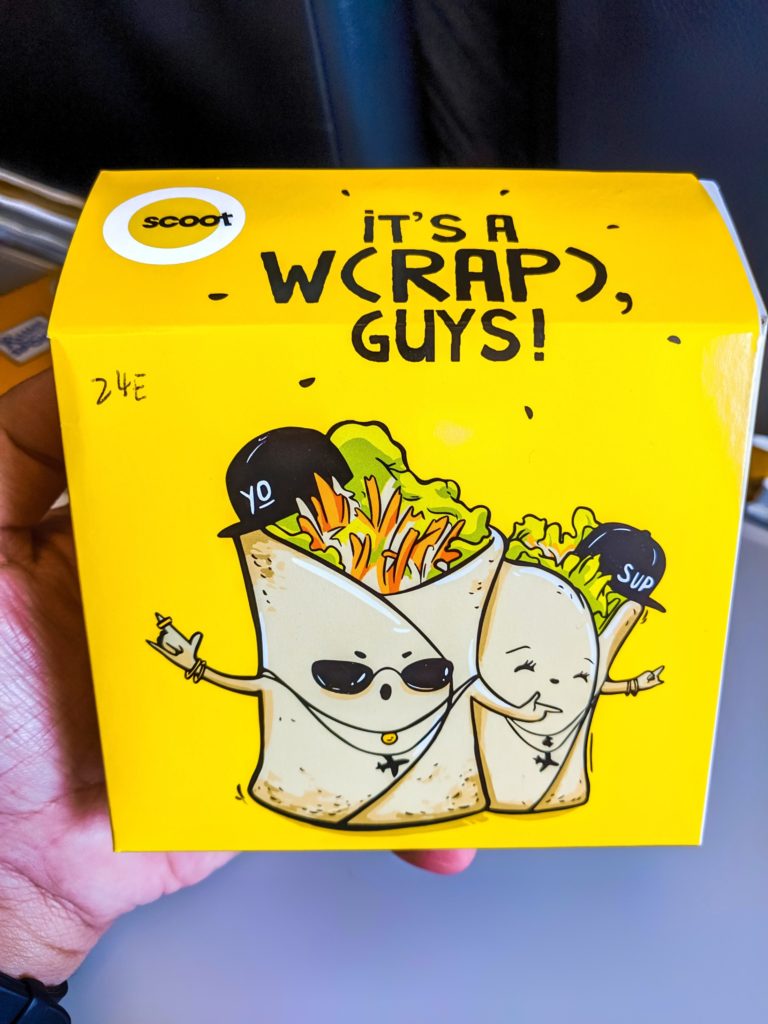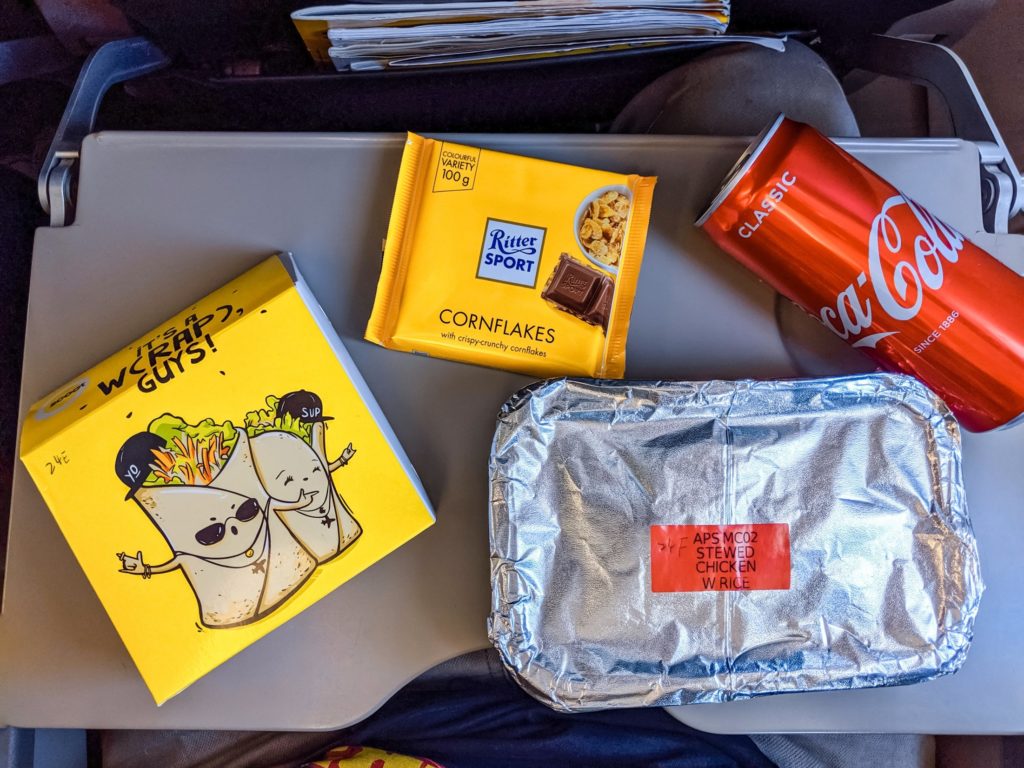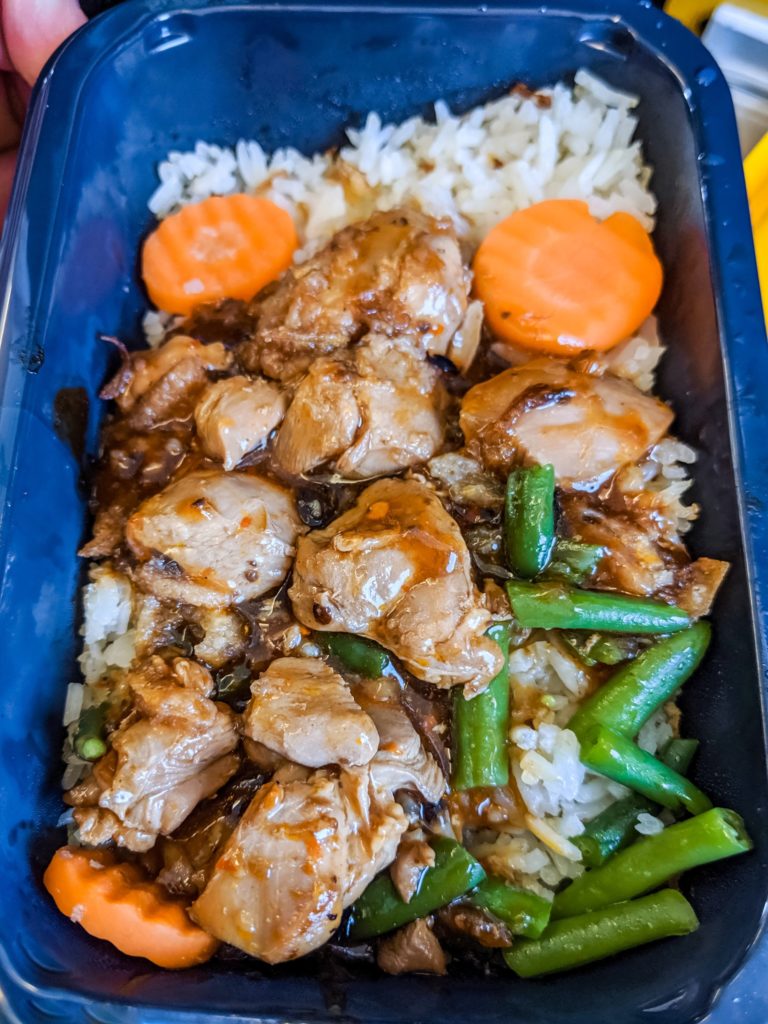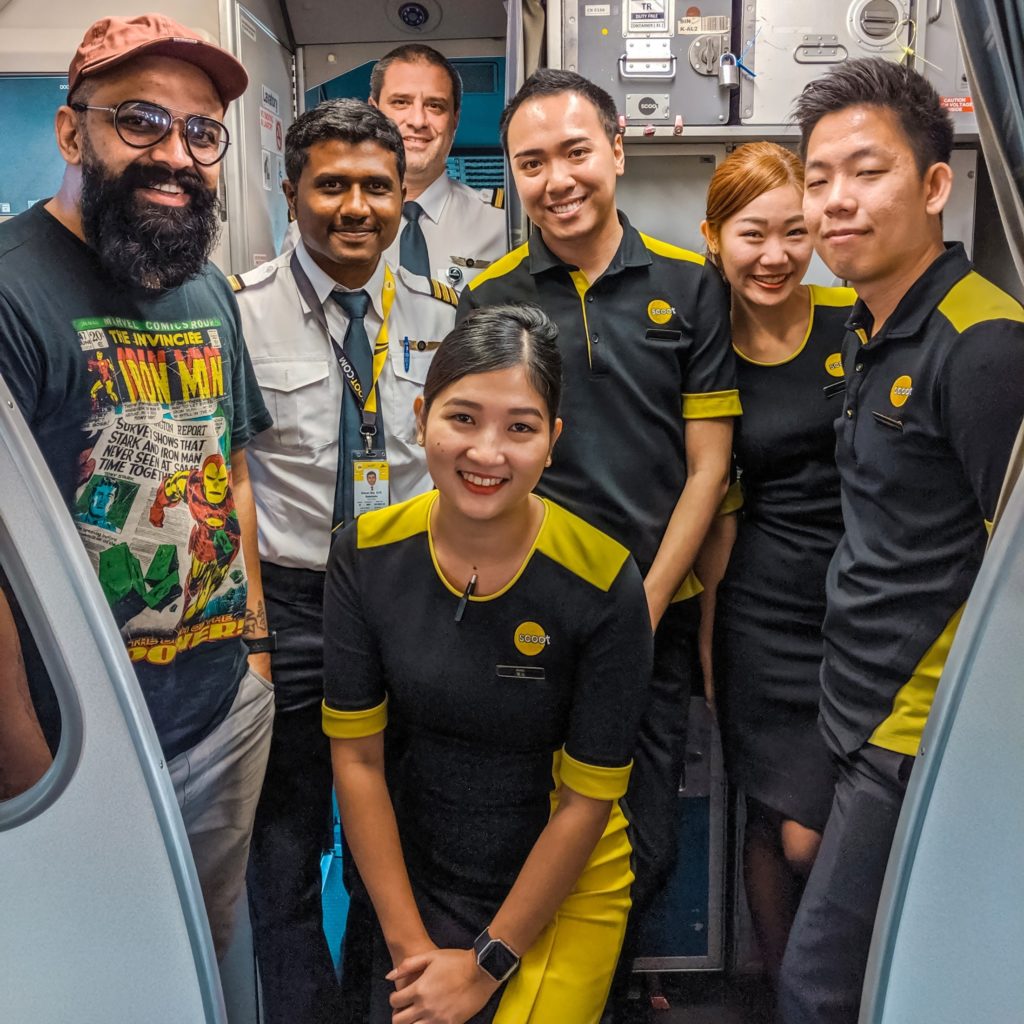 The Layover in Changi Airport, Singapore –
We got down at Singapore for a short layover and directly went to the Scoot Airlines desk at Transit 2. The lady checked our documents and guided us to the gate for the flight to Ho Chi Minh City. I loved the Singapore Airport and I can easily write a whole blog on what to do there on a layover. We wanted to relax first and stretch a little. So, we grabbed a coffee and then went to one of those leg massagers that are put at the airport.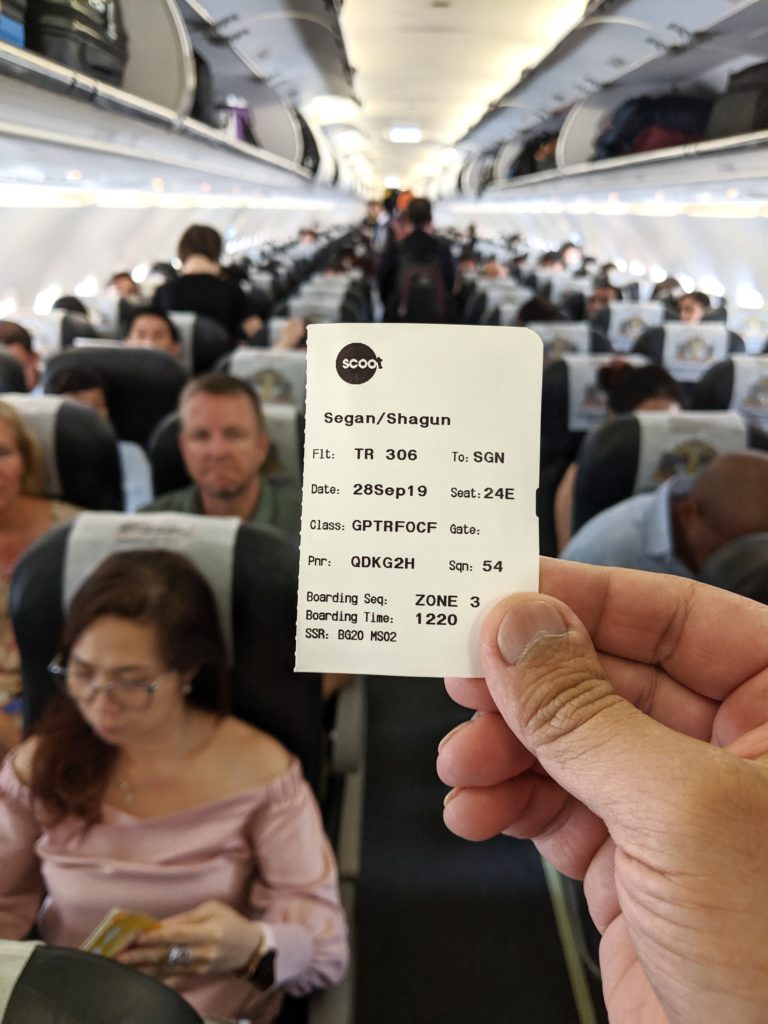 We spent the next 2 hours walking around the airport. Neharika went around checking out cosmetics and I went to the electronic section. How we all love to check prices and compare it to how much would it be back home. Then it was time to catch the flight to Ho Chi Minh City from Singapore Airport and we went off to the gate. Now, in daylight I could see the Scoot Airlines flight and it was a bright yellow and white design. The nose area had "chalo chalo" written in black and that looked really cool. It was nice to see them depict India like that.
A quick flight from Singapore and we reached Ho Chi Minh City that afternoon. A short visa process to get the Vietnamese visa and we went to collect our baggage. Our luggage arrived shortly and we whisked it off the belt and went out to look for a cab to the Hotel.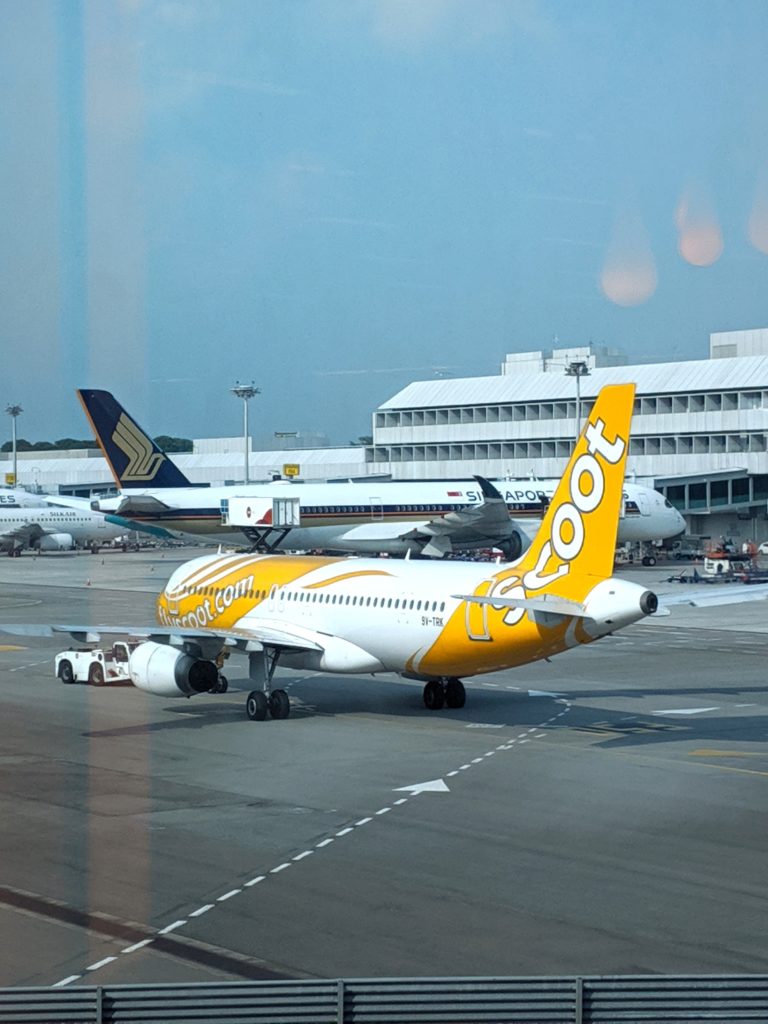 Hyderabad to Ho Chi Minh City with Scoot Airlines –
Our overall experience of flying with Scoot Airlines from Hyderabad to Ho Chi Minh City was amazing and comfortable. Having experienced quite a few budget airlines in South East Asia, I know that it can turn into a horrid experience. But at Scoot, they have managed to provide budget friendly options and not compromise on the comfort for the travellers. Our Scoot2Vietnam experience surely set the pace for the next 2 weeks in Vietnam and first up, we look at exploring Saigon.