For the first time in this region did I hear of an authentic Sri Lankan Food Festival happening at Mercure Hyderabad and couldn't wait to get there. I did have some amazing memories of that food from my trip to Sri Lanka in 2013.
I had just got into Colombo after a flight from Chennai. Went to the bus stand and took a bus to Bentota, because I was so keen to start my trip. I got there by 12 pm and decided to eat first and then look for a place to stay. Given the love for local food, I decided to have Sri Lankan food for lunch. Went to this small hut of a place by the highway and asked for lunch. What I saw on the plates was very similar to our Kerala, Andhra meal plates. One big pile of rice, some dry veggies, some curries, some form of lentil and papad. Same ordering system as well, you just order one meal and bowls of all items are on your plate.
I took little bit of everything and took my first bite. And boy was it spicy! This was super-hot stuff. And when a spice food loving Indian says it's hot, you better bring on you're A level spice game On! The flavours felt so Indian that I forgot I was having Sri Lankan Food by the highway. The proportion of the spices and the taste of the veggies was different but still felt like back home. It kept burning and I kept eating, by the end of it all, I knew I was hooked. The rest 16 days there would be amazing for sure!
After that journey, I couldn't find that food anywhere. Then this one day I read about Mercure Hyderabad KCP doing a Sri Lankan Food Festival. Wherein, Guest Chef Nihal Senanayake from Galle, Sri Lanka would be curating the food. So for sure it doesn't get any more Sri Lankan than this in Hyderabad!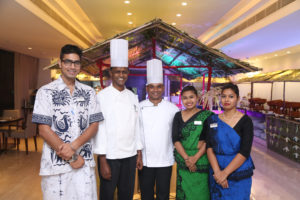 They have set up the place really well and the attention to detail is note-worthy. The staff in Batik prints lights up the whole feel of the place. A beautiful hut in the centre adds to the whole appeal as well. Food is set up in traditional clay vessels and carries that rustic earthen feel.
Once seated, I met Chef Nihal and went over my Sri Lankan escapade with him. Getting a chance to relive that whole trip was amazing. We discussed a lot about what I loved food wise and he could relate to it all. Even explaining why, I loved the Kuttu so much there.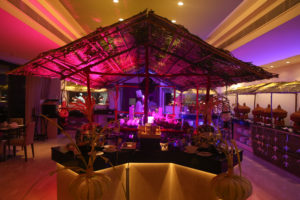 Sri Lankan Food Festival At Mercure Hyderabad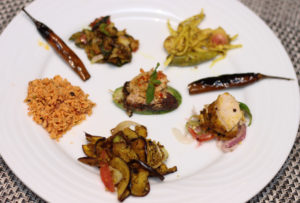 Sambols – We kicked off the evening with some Sambols, which is more like a dry mix of veggies, meats and spices. Each sambol brining something unique to the mix. The coconut sambol made of scraped coconut and dried fish with spices is a staple in whole of Sri Lanka.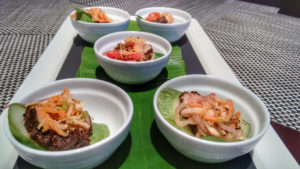 The Tuna sambol is a must have you love the taste of tuna. The Okra and Aubergine sambols felt more like home. But it's a nice light way to start.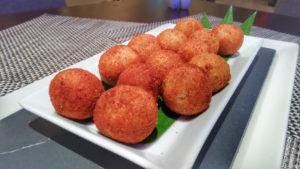 Fried Tuna Balls – Another tuna dish lined up was the Fried Tuna balls. Crispy on the outside and almost gooey on the inside. For me it was the best thing that day. Perfect for a rainy evening and still fit in well into the whole scheme of things that evening. I love how tuna tastes when cooked on medium heat and this one got it perfectly.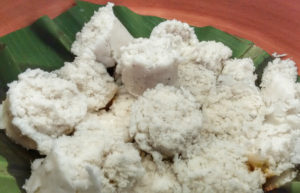 Pittu – The Pittu was on offer with the meal. It's similar to what we get in Kerala and goes well with curries. Made well keeping the softness intact, but it has to be eaten fast before it goes hard.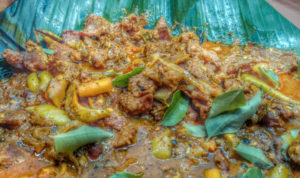 Mutton Pepper Stew – It had the strong pepper punch and going by the aroma, the pepper was top notch. Topped with chillies and curry leaves, this one is perfect for the hot seekers. Coupled with the pittu, it seemed like a perfect match.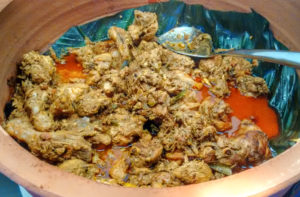 Chicken Red Curry – This one is another staple food. But for most of their curries, Sri Lankans don't add specific spices for the colors. They use curry powder which comes loaded with everything and is more like an instant mix. Coconut flavour rules most curries and tones down the spicy levels a little.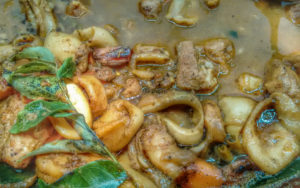 Curried Seafood was what I was waiting to see. Sri Lankan food without seafood is just not possible. If they had to pick 3 things they would pick rice, coconut and seafood! Mixed in was some calamari, prawns and fish. Coconut and tamarind mix ruling here as well.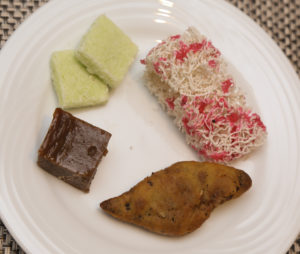 Sweets have a very distinct flavour. Unlike our usual sweets, here they are a different type all together. Just the coconut thing is familiar.
So if you have never had a chance to taste Sri Lankan Food, this is the place to be!
Where – Mercure Hyderabad KCP
When – Till 24th July