World Famous In Hyderabad For Osmania Biscuit and Dum Ke Roat – Subhan Bakery, Nampally
My Subhan Bakery Story –
Till about 2011, I was pretty much an outsider in Hyderabad. I thought Paradise served the best biryani, Cream Stone was the best icecream, Karachi Bakery had the best biscuits and I even thought that Secunderabad was some different far-off city! So you get the drift of my wrong notions about the city. But then as the number of trips went up, so did my knowledge about the city. I understood Shadab more, enjoyed Moozamjahi more and as for the biscuits, that's a story I want to share today – My introduction to Subhan Bakery and how the love has just grown with time.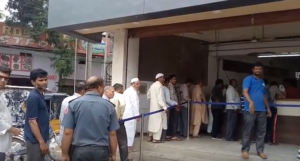 Driving down to Old City from Banjara Hills in search of good food was a ritual back then. On one such trip, I found myself in front of a shop which read Suban Bakery, with people lining up till the main road. Given how curious I get about food, I went and joined the queue and eventually got to know from people around that they were buying Osmania biscuit and Dum Ke Roat – both of which I had to try out.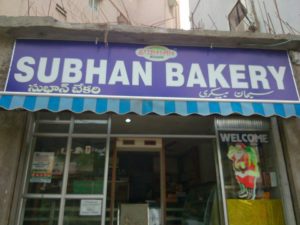 Ever since then, Osmania Biscuits at Subhan Bakery became my must-have on all my Hyderabad trips. I would stock up my home with different varieties of biscuits from Subhan Bakery because gradually, I started loving their Oats Biscuit, Chand Biscuit, Rusk and also the Khari Biscuit.
The Subhan Bakery Story –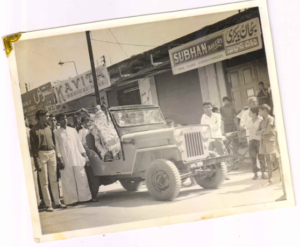 The experience of Baking that spanned over several generations was what gave birth to this family-owned Bakery in 1948. Before starting this bakery in a small garage in Red hills area, Syed Khadar Sahab and his brother Syed Mahboob use to supply bread and buns to the British Regiment in Secunderabad Cantonment. Initially they started with bread buns and even the Nizams and Nawabs of Hyderabad relished these regularly. Syed Khadar Sahab went on to serve his Wheat Bread to Pandit Jawaharlal Nehru as well, and he would enjoy them for his breakfast in Hyderabad. With so much popularity, the Bakery had to grow and so it was moved out from the garage in Red Hills to the current location at Nampally in 1950.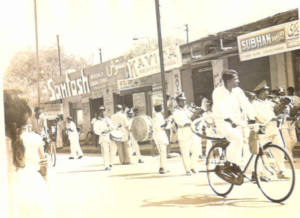 1951 was a very special year for the bakery. Syed Khadar Sahab decided to finally give a name to the bakery and it was named Subhan Bakery after his son Syed Subhan. Business continued to grow and the 50's-60's saw Subhan Bakery extend their item list too.
Way before Osmania biscuit became what it is today, the biscuit trend was kicked off by Khare biscuit. This was slightly denser and saltier as compared to the Osmania biscuit. The bakery also started making the ever-so-loved Chand biscuits and early samples of Osmania biscuit.
The Subhan Bakery Growth Story –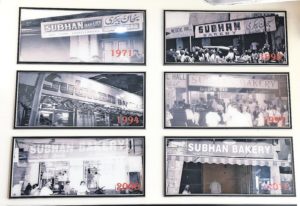 By the 1970's Syed Subhan Sahab became the next generation to get into the bakery business. They got in the new trending items like Cakes and flaky Puffs. This was the time for the tide to turn from traditional methods to bringing in some technological advancement to the baking process. The bakery also expanded to the next door shop.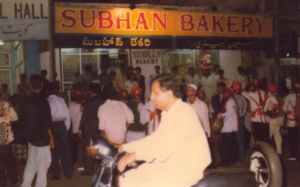 For a family to maintain the name, consistency, and quality of their bakery, it can be a tough task if not monitored. Syed Khadar Sahab made sure that everyone spent at least 2 hours daily in the bakery. This one habit made them understand the process thoroughly and also brought them closer to the brand. What's interesting is that; the practice continues till date at Subhan Bakery. You may walk in at any given point of time and are sure to find a family member at the bakery. Syed Subhan Sahab's vision of making the bakery well-known and the go-to place for at least one item became a reality. Today, not just one item but Subhan Bakery is famous and synonymous with many bakery items, with Osmania Biscuit and Dum Ke Roat being their highlight and top selling products.
The Legendary Status of Subhan Bakery – Since 2000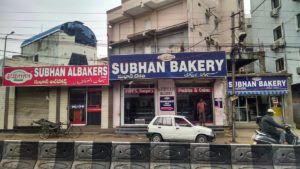 By the 90's Subhan Bakery become an accomplished name in the market. The aroma rising from the bakery seemed to just get better and better. Osmania Biscuit also became the most-loved biscuit across Hyderabad and it was a task for all other bakeries to try and match their biscuits to Subhan Bakery. All this has pulled leaders and famous personalities from all walks of life. Their client list includes – Ghulam Nabi Azad, P. Chidambaram, Chiranjeevi, Asaduddin Owaisi. It became a well-known brand among the Telugu film Industry and even Superstar Rajanikanth is a fan of the Osmania Biscuits.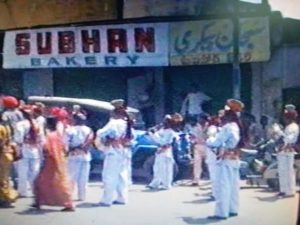 Given the constant evolution that has happened over the years, it was evident that Subhan Bakery would improve more. So now they have a plush new space in the same location with a nice seating area and a lot of display space. The minimal item list has now crossed 50 and their loyal customer base continues to improve. Under the leadership of Syed Irfan and Syed Imran, the grandsons of Syed Khadar Sahab, Subhan Bakery has gone on to consolidate its brand in the diverse food scene of Hyderabad.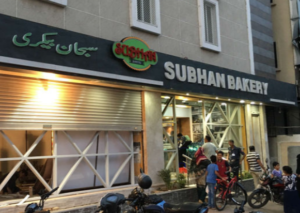 If you haven't still been to the bakery or tried any of their products, you are missing out on something Hyderabadi for sure. Their biscuits are available across the city now at various stores and even online. So what are you waiting for!
Location  – 11-6-467, Nampally Market, Bazar Ghat, Hyderabad, Telangana 500001
Phone Number  – 093482 57788