Given all the madness around new food places popping up on Road Number 45, we definitely needed to control things a little with a Tollgate and that's what we got – Tollgate -The Eating House! If you ever had inhibitions about trying out a new place, wait till you hear the other brand run by the owners are you ready? United Kitchens of India, yes, the UKI! So, rest assured that food is going to be top-notch while you hit this Tollgate.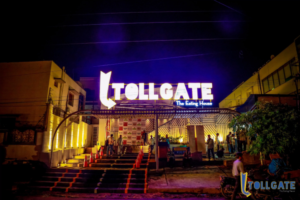 So, what's the story you ask? Imagine a highway setting, crisscross flyovers, drive-ins, mist on the way, rustic feel and some good-good food. Now roll all the above tightly and drop the bomb on the most happening road of the city and voila! You've got Tollgate. I really hope they start giving out tours to everyone who walks in to the place because you will just be lost in the amazing details of the place. But the good part is that you can keep coming back to it and sit at a different location everytime!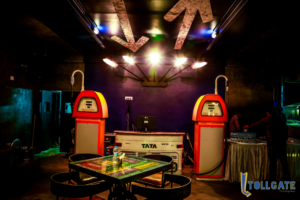 With Chef Rizwan running his magic in the kitchen, the whole place comes together seamlessly in doling out such a varied fare! Just think of any cuisine that you might crave for and Tollgate has you covered. Even going as far as crave it anytime and you can have it. No other place in the town has such massive working hours. Tollgate starts allowing people in at 7am and shuts at 2am, so that's 19 Hours of serving food!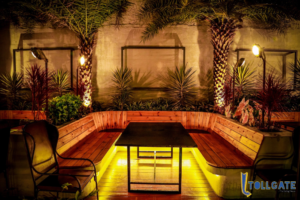 When I said any cuisine, you would think no kitchen can cover it all, right? So, this is where the drive-in feel comes in. So rather than one kitchen trying to make everything, you have a mix of pop-ups doing what they do best. But unlike the usual drive-ins that have no control over the food coming to your plate, Tollgate owns all the brands that serve you. And your options are –
South Indian Express – Tiffin stuff, flavors of South India, staples
Dhaba by Rajender Singh – North Indian dhaba food, Chinese, kebabs
Wichway – Sandwiches, burgers, pizzas, continental
Go Juice – Smoothies, bowls, juices
Bombay Kulfi – Fruity rich kulfis
Pan Shop – because no Hyderabadi meal is complete without a Pan
I hope we put all the inhibitions to rest now. If not, then the following details and pictures of the food will definitely do it!
Food at Tollgate –
Given the variety, I knew that even in just trying out a few from each kitchen, I will be knocked out in no time. And with full determination, I went ahead starting with the Tiffins from South Indian Express.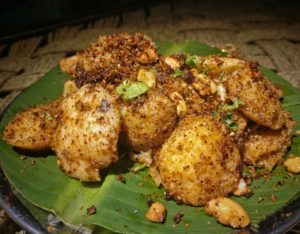 The Ghee Podi Idli looks mean and loaded with spices. Anyone with a faint heart wouldn't dare try this, but for a Hyderabadi this is an irresistible sight. Doused in spicy podi, the Idlis are small and pack a mighty punch. Make sure you check all the available Chutneys before you dig in.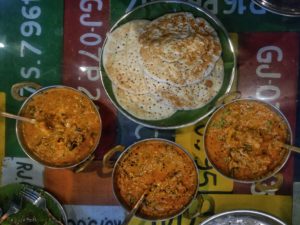 The combination of Set Dosa and Curry is soothing and filling. You can choose from Wada Curry, Paya, Chicken Curry, Prawn Iguru and Fish Pulusu to go with these super-fluffy Dosas. My pick would be the Paya for the amazing fat flavor that the curry carries.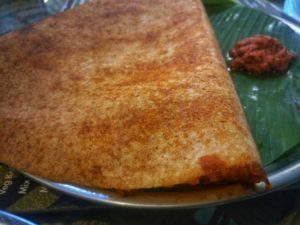 You cannot not have a normal dosa once you start with Tiffins. I went for the Karam Dosa and oh boy was this spicy! It's this delicious spicy that you know can kill you, but you just can't stop. And coupled with the red chutney on the side, it hits all the right spots!
One look at the Wichway menu and you wouldn't want to stop. The description of every dish is hilarious and will make you very curious. This also affects your judgement and will make you go for the most obnoxious stuff. But since it all tastes amazing, you shouldn't care and go wild, slutty and dirty. Now that's exactly how you would describe a good burger!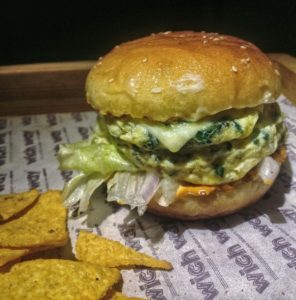 Up first was the Eggs Gigolo, which takes a leaf right out the ever-so-famous Egg Slut! Super fluffy eggs with Feta and Spinach on this one. And those buns are to die for. Since it's all done in-house, the breads are all made to last. Thus, no breaking bits to annoy you while you go all out for the burgers.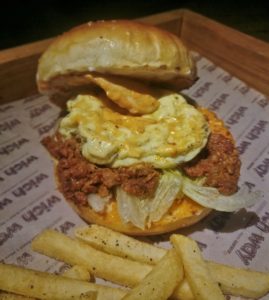 One rule for burgers – The more insane, the better! Rightly called the Insanity Burger was out in the open next. Slow cooked mutton chunks, chicken and fluffy eggs making for an insane burger for sure. The meat lovers can just walk in, order this and just float away to meaty heaven!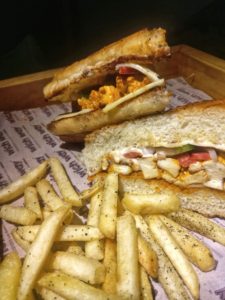 Given how amazing the breads are, I wanted to try out Paninis. Went for the Texas Ranch Panini with chicken chunks in a hot sauce. This is so light and perfect for a snack anytime of the day.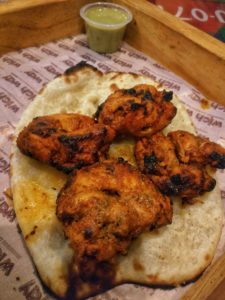 How could I miss out on the Dhaba by Rajender Singh and went for the Spicy Chicken Tikka. It was cooked really well and the Sheermal was so so good. We had a Lucknowi at the table who gave thumbs-up to it too!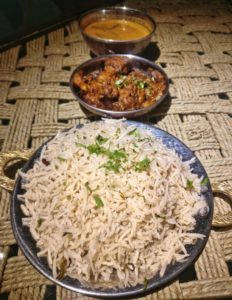 One dish which sounded very interesting was the Khichdi Kebab Chicken. Only when it came to the table I saw that this was a take on the Hyderabadi local favorite of Baghara rice with khatti dal and some spicy semi-dry chicken. Use your hands to savor this one and you will love it!
Desserts at Tollgate –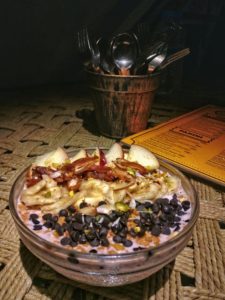 When you have super healthy sweet stuff at Go Juice, how could I not dig into one of the bowls. Ended up getting 2 bowl – Chocolate Bowl and Super Food Bowl. Both were loaded and amazing in their own way, but the freshness of the fruity bowl made it my favorite.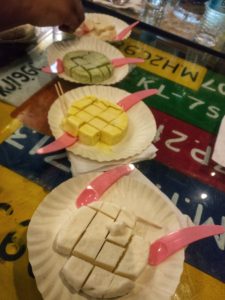 Having heard so much about the Kulfis, a whole array was ordered from Bombay Kulfi. We got White Guvava, Paan, Kesar, Jackfruit and Coconut. I thought I wouldn't be able to even take a spoon given how full I was, but the Kulfis are so light and fresh that you won't feel a thing.
My visit to Tollgate isn't complete without their spectacular Filter Coffee. Downed one and then we called it a night!
If you did read on till here, I am sure you will head out to Tollgate today itself! One suggestion, don't try to rush it, just go with the flow and pick a few items to relish them well. Like I said, Tollgate is here to stay and you can keep hitting it for those odd hunger times to tick-off the menu.
Location  – Tollgate, Road Number 45, Jubilee Hills, Hyderabad