A much needed respite after a month-long travelling.
Egypt was historical and very beautiful, but also crowded, busy, sunny, and extremely hectic. There was a lot of travel, juggling between cities, plus we were kind of missing our dearest 'dal-chawal' too.  From exploring the Pyramids of Giza to walking for hours in the temples of Luxor under the harsh sun, the never-ending bus rides and the endless wake up-and-walk out early mornings, it was high time we needed a mini break to brush off the exhaustion..
That's how our staycation at Le Meridien Cairo Airport happened!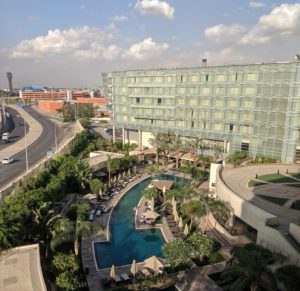 To begin with, Le Meridien Cairo Airport has something for all kinds of travelers – from spacious standard rooms for transit travelers, to club rooms for leisure seekers, and also luxury suites with a view for the business biggies. Would you believe me if I told you that there have been guests who are living in the hotel for more than 2 years now?! No wonder, Le Méridien Cairo Airport is a big hit with all travelers alike.
The Rooms at Le Meridien Cairo Airport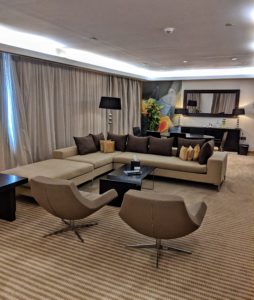 The rooms are cozy and well equipped with comfortable beds, huge bathrooms with all the necessary toiletries, super speed wifi and of course a gorgeous view. If like us, you too love your privacy and not too fond of busy buffets, there's good news guys – guests who stay in club rooms have an exclusive access to the club lounge, where one is served meals, tea and coffee, cola even, all day.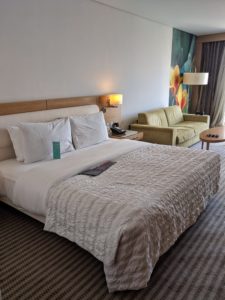 Shagun's latest fascination is the gym. The first thing he checks when booking a room is if there's a fitness area, and naturally, Le Meridien Cairo Airport has a huge and well equipped gymnasium. So, while he would be sweating out the carbs consumed the previous night, I would be chilling by the pool working on the blog.
The Amazing Breakfast at Le Meridien Cairo Airport –
Once both of us worked up our appetites, we would head straight to the breakfast area and stuff ourselves with almost every dish our eyes would spot. For people who need that kick early in the morning, you can start with the 'Eye-openers'. We started off with fresh orange juice, we would then eat everything from chocolate stuffed croissant to Nutella  pancakes, the Le Meridien Cairo Airport signature omelet to fruit loop cereals. AND guess what?? We also feasted on the lentil curry (tears of joy) which was as Indian as it could get. Basically, it was Dal Makhani, which we topped with finely chopped onions and squeezed a few drops of lemon, and ate it with the Egyptian bread. BLISS  to a different level. A special mention about the Illy coffee that was served to us. Our breakfast would never be complete without it.
Did you know:  At Le Méridien Cairo Airport, the breakfast starts at 4 in the morning, for those who have an early flight to board. A happy guest with happy tummy – What more could one ask for.
Eating Options at Le Meridien Cairo Airport –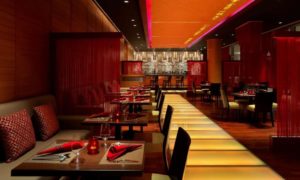 The luxurious Le Meridien Cairo Airport houses 4 restaurant of which Red China boasts of authentic Chinese cuisine, while Mezze offers scrumptious Lebanese food. Then there's Evoo which offers an expansive multi-cuisine buffet all day. Spend your evenings at the Sports Bar which is extremely popular and gets quite busy as the night progresses. We dined at the sports bar which was a mix of British and American pub food. And while we were treated to some brilliant live music, if you are a sport buff, the club telecast live sports too.
Every time we felt caffeine – dehydrated,(which was like thrice a day) we would head to the Latitude Cafe to pick up a Cappuccino. I always prefer to munch on something chocolaty while I sip on my coffee. One of my favorites among the  huge spread of savories was the Eclair, which also happens to be Le Méridien 's signature dessert. If you are craving something sweet but also have to rush to a meeting, the Latitude Cafe is the place you must head to.
The highlight of the stay at Le Méridien Cairo Airport was the Sparkling evenings, again, a Le Méridien signature, where we would gulp down a couple of mocktails and feast on petite plates.
Amenities at Le Meridien Cairo Airport –
When you think of spa, think Le Meridien Cairo Airport . Honestly, one of the best massages I've had in recent times. The masseuse worked his magic in the rights place and with the right pressure, all we told him was that we've been traveling for almost 2 months now. Oh, we had opted for the aromatherapy massage, and were lucky to get a massage room overlooking the pool.
Three days of pure bliss, and we were ready for the next part of our journey – Turkey. The best part about staying at Le Méridien Cairo Airport was the super easy access to the airport. There's a bridge that connects the hotel directly to the airport. Now how cool is that? Leave alone easy check-in, our check out was also very easy breezy.
Final Verdict On Our Stay at Le Meridien Cairo Airport
Design anesthetics – The angular structure and then plush glass windows make way for a gorgeous panoramic view. The interiors are classy, giving out major Egyptian feels.
Location – As the name suggests, Le Méridien Cairo Airport is located a stone-throw away from the airport. It has good connectivity to the entire city. Buses and Cabs (Go for Uber) are available all the time.
Clientele – You will mainly find business travelers and people in transit. Even locals looking for a quick getaway come to Le Méridien Cairo Airport .
USP –
 If you are staying at the Le Méridien Cairo Airport or heading out of the city to catch an early morning flight, be rest assured that you will have a happy tummy. Like I mentioned, the breakfast starts a 
4 am
 everyday.
What not to miss – A meal at Mezze, The Eclair at the Latitude Cafe, the Shaken Wings at the Sports Club and of course the massage.