Whether you have a crazy partying Saturday night or a chilled laid back Saturday at home, come Sunday and it all can be made right with a kick-ass Brunch. And what better than the Olive Bistro Brunch! The feel of the place, the Mediterranean setting, Live music and that sense of time just standing still. Overlooking the lake, picnic basket on offer and some of the best food in Hyderabad, aptly named this brunch Picnic by the Lake – Picnic Basket Brunch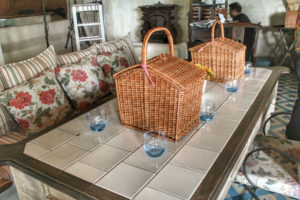 I still remember the first time I went to Olive Bistro. Being new to Hyderabad, finding the place was a huge task! Google maps failed me and I entered some 4 wrong lanes before reaching. Walking into the place through the stairs, random twists, greenery around, I was thrown back to any sea side place in Goa. Saw the main structure and I couldn't have loved it more. White and turquoise, overlooking the lake, clean neat set up, a huge tree and perfect lighting. My only thought was, why hadn't I come here before! Once I had their pork chops and the insane cake, they had a customer for life. So many people have I pushed to go there and everyone's come back thanking me!
Enough of the history lessons, now coming to the Olive Bistro Brunch…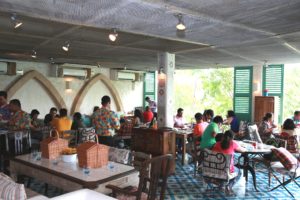 Breakfast that went on till Lunch is what became a Brunch! So when I think of Brunch, it has to have a spread that ranges from pro-breakfast menu goes through a few salads, enters the mains arena and then a knock-out with desserts. One look at the Olive Bistro Brunch menu and all these boxes weren't just ticked, they were hit out of the park! They are already well known for the brunches and getting a reservation is a tough task. Yet, how do you make something that's perfect, go a notch higher? You add a twist! That twist here, is a Picnic Brunch!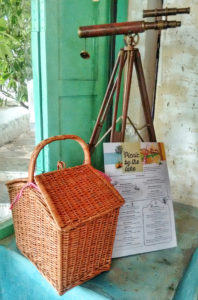 Olive Bistro Brunch, moves away from the traditional buffet spread with 150+ dishes that make you full by just looking at. Also add to that how they have to cook a lot of food beforehand, not knowing how many people would come in on that day. So you end up having a lot of wastage. And a laid back brunch doesn't mean you need to walk around the place getting food on your plate. It's about sitting down with your people, chatting up, sipping Sangrias, gossiping and just getting all the food you want, to just appear on the table. A win win for all right! That is what the new Picnic Olive Bistro Brunch is all about. So it kicks off at 12pm and you can linger on past 4pm too.
Some of us even have thought of going out on a picnic Sunday. Take a picnic basket along, lay down a mat somewhere under shade and then dole out the stuff from the basket. Now here's a chance to do all of that at the Olive Bistro Brunch. Right as you enter, you would find a Picnic Basket by your table. Be amazed by the stuff inside. What's in it you ask –
Newspaper
French Bread
Fresh Juice
Butter, Jam
Flowers and Napkins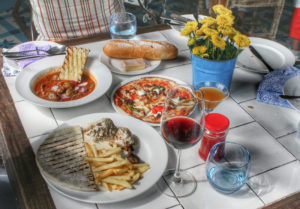 So lay down your own picnic table and then start digging into the bread and juices. By then you get the menu for the brunch and you can start your journey. The menu is detailed and will spoil you for choices. Coming in a little before 1am means there's still a scope to devour some breads, cakes slices and eggs. Put along a wide array of cocktails and mocktails on offer and you are all set for the long long brunch ahead. The menu has been made by their Executive Sous Chef, Arun D'Souza, who has created a unique & delicious menu comprising of the best varieties to pamper the customers. There is special emphasis on retaining the freshness of ingredients, inclusion of seasonal products and provide the best flavours to the guests.
We took a table by the window and got a beautiful lake view. The place was bubbling with people, their waiters in the usual floral shirts and some amazing live music. All setting the tone for a perfect Sunday brunch experience at this new Olive Bistro Brunch. We dug into our picnic baskets and started exploring the contents. What unfolded from then on was a crazy almost 3hr food marathon with some super highs, random talks and ending on a perfect cup of cappuccino. Hold on and be patient as we go through all the food that we were able to eat!!!
Olive Bistro Brunch – Picnic Basket on the Table
First up was the Banana Bread Basket with some whipped maple butter. Fresh, soft and perfect while we were deciding what to order. Some Sangrias and LIIT's with a virgin mojito to get the right juices flowing.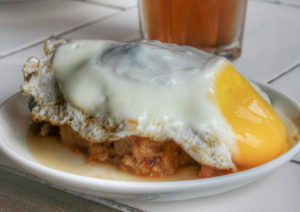 Pulled Pork & Polenta – The pork was the usual Olive Bistro level but the crisp Polenta is what stood out. The flowy sunny side up on the top made for a beautiful texture combo bomb. The sunny side up was so soft that one push and my yolk trickled down, but I wanted to avoid it anyways. The pork was flavoured well and meaty indeed.
Chicken and Waffles – Until then I had only heard of savoury waffles but never had any. So I ordered for it right away. The waffle here was made of cornmeal and the chicken was grilled to perfection and a zing of orange and chilli was pretty evident. Very different than the usual sweet waffle affair.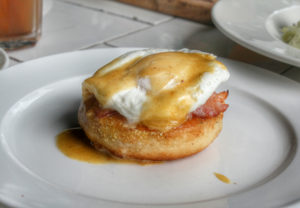 Egg Benedict – Even before reaching the place, I was told to not miss this one. So once I got to the eggs section I started with this. A super soft muffin at the bottom, a twist of bacon on top and then the eggs in Hollandaise sauce. Twisting around with proper English food is such a kick to the taste buds. So light this was that I could have easily had another one, but then there was a lot in store.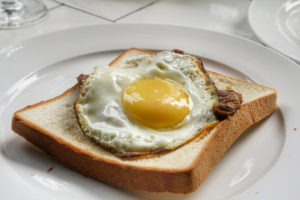 Steak and Eggs – The steak on its own was nice, but then the bread loaf below it didn't work for me. Plus, I had asked for it more for the beef than anything else. Given a choice I would have opted for it without the bread for sure.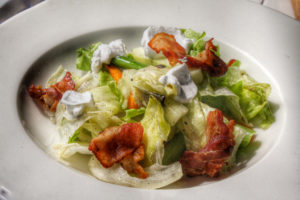 Cobb Salad and Brunch Salad – Already we craved for little break from the food rush. So we moved to the salads for a while. Blue cheese addition made for the Cobb salad order and something fruity had to be the Brunch salad. The salads looked perfect fresh and treat to the eyes. But then I just wasn't in for salads today.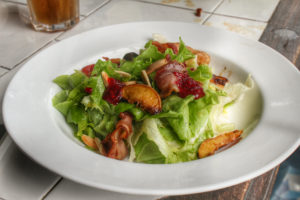 So took a few digs and I knew I wanted to save up for the bigger battle ahead! The Cobb salad seemed light so we lit it up with some bacon thrown into the mix.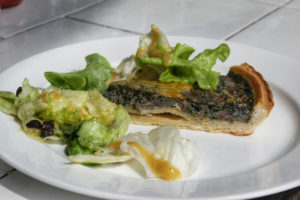 Quiche – They had a concept of the special for the day, but we were lucky and it was the spinach meat Quiche that day. The pastry was fresh and just right amount of crisp. Meat was well done and packed a punch. Portion was small and that was good, because it was more like a pit-stop.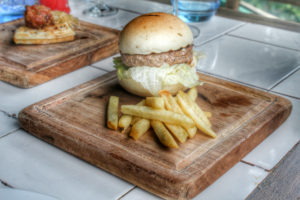 The Burger – I saw minced beef and got it right away. Again they have kept the portion small and works well or else a burger would knock out easily. Not your usual sauces overload burger with add-ons, the patty ruled this one. One bite and the juices oozed out all over the place, and that's always a good sight. Every bite was blissful and it was over in a flesh. Although left wanting for more, I had to hold the horses.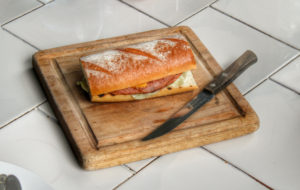 Monte Cristo Sandwich – Again the game of toning down a heavy punch with a softer easier thing led to the sandwich. It looked really small when it came, and there was a knife along. Only after my first bite did I realize that the bread was a whole grain bread in the true sense, hard and dry. Just a ham and some cheese inside couldn't do much to this sandwich. So something light turned out to be mighty and rough. So passed it along the table for others to help finish it.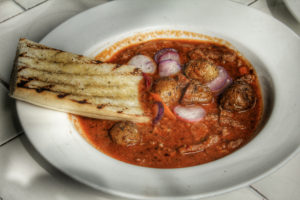 Beef and Root Vegetable Stew – I read the description, 5 hr braised beef, turnip, lavender and stew so how could anyone say no to this one. More than the beef it was the potatoes that won in the bowl. Very different from the usual stew but more on the masala side.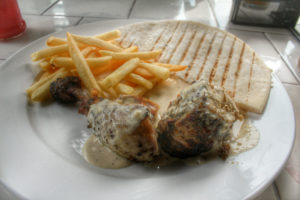 Roast Chicken – With so many flavours over-powering the palette, an Arabian touch was what we needed. In comes the cream sauce grilled chicken with grilled pita and hummus. Light and fresh with chips to go with. Although I wanted something mild, this seemed milder than anything we had that day.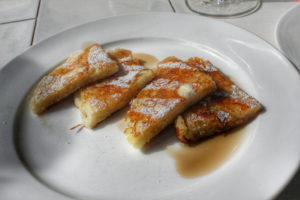 Pancakes – We missed this part when we started so had to go back to the breakfast but then there are no set rules now are there! So pancake was ordered. Ricotta pancakes with maple syrup and just about your usual spread that goes down well making the tummy happy. It would have been amazing on its own but then the French Toast stole the thunder.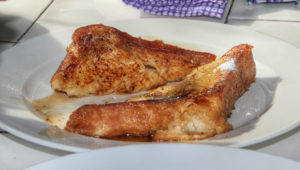 French Toast – So the story goes that while looking to order mains, we peeped into a table and saw French Toast and I wanted some soon. As soon as it came to the table it looked fluffy, scintillating and a beautiful golden colour. One bite and I was floating in heaven. I have had some amazing French Toasts but this one beat all of them easily. Brioche is the best bread you can get for French toast and when the bread is freshly baked, you can't go wrong with it ever!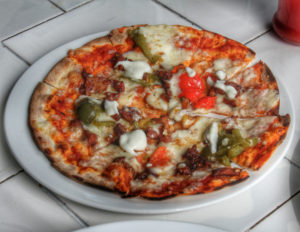 Pizza – The place is a legend when it comes to Pizzas, hence you can't go to Olive Bistro and not have the Pizza. Thin, filling, topped well, fresh and treat to the eyes. The Pizza was its usual best that one has come to expect of Olive Bistro.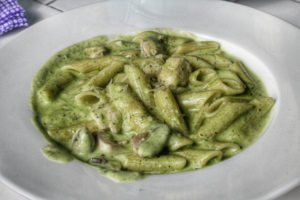 Pasta – Following up a Pizza with a Pasta seemed like the thing to do and I couldn't have been happier. For once I decided to move away from my usual Alfredo sauce and went with Penne in some Pesto sauce and boy was it good. Some mushrooms in it but still the sauce coming off as the star.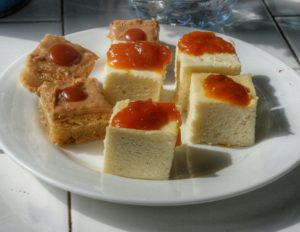 Desserts – I could barely get up from my seat after all this over-load of food. But then no fighter ever leaves the food ring without hitting the desserts. So I checked with them what were the top 2, went with the Mango Rhubarb Cheesecake and Peanut Butter and Caramel Blondies. Thank God that both were small enough to just pop and get done with. Although the Rhubarb was a little strong on top, the Cheesecake was light and smooth. I would have wanted some chocolate but then I knew I was done.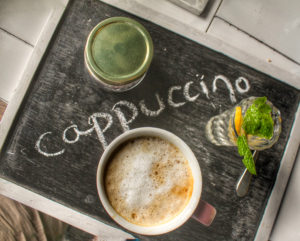 Cappucino – How do you say goodbye to such a perfect day, it's a tough thing. But then a cup of good Cappucino can set most things straight. And the way it came sure made for a happy ending by all means. Plated to perfection and even came with a palette cleanser. We downed that looking at the lake and then walked out finally.
You go to a buffet, stuff yourself up and then feel sick about it. But then with a set up like this you leave feeling full in a good way. It's like you ate to heart, mind and stomachs content.
Where – Olive Bistro
When – Every Sunday 12pm-4pm
How much – 1500++(No Alcohol_ and 2000++ (Alcohol)